The Null Device
2001/11/6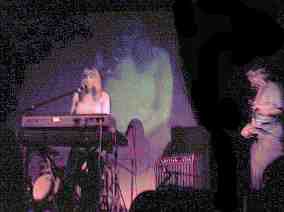 Tonight I went to Revolver, to the New Buffalo/Cut Copy EP launch. First off was a short VCA student film titled The Great Pretender, projected on the screen behind the stage. The film was vaguely 1950s-retro in style and concerned a teenage girl's battle with unpopularity and the school dance, featuring a number of song-and-dance numbers. Then New Buffalo went on stage (the stage lineup consisting of singer/songwriter Sally Russell, as well as a bass player and drummer). Sally performed most of the songs on her EP, playing keyboards and singing, and also did a few other songs; for some she left the keyboards and picked up a guitar, going to a more aus-rock/power-pop sound, albeit in a somewhat Frenteish direction. (Remember them?) Most of it worked quite well with the live band and without the experimental production you hear on the CD (Sally's boyfriend/collaborator is one of The Avalanches), though was perhaps let down a bit by the sound being less than ideal (for one, the drums were mixed a bit too loudly).
Then Cut Copy came on, and I wasn't overly blown away; they just seemed to be mixing records (some hip-hop, some dance), and keeping up a beat; fairly standard DJ fare. They had what looked like a sampler as well, but there didn't seem to be much in the way of innovation there.
For what it's worth, New Buffalo are performing at the Black Cat Cabaret in Brunswick St. this Wednesday evening.