The Null Device
2002/9/29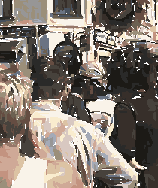 The Fitzroy-themed Between the Spires art exhibition, formerly at the Found Project Space (which has since been evicted to make place for a trendy clothing shop or yuppie lifestyle apartments) is now taking place at Dante's Upstairs Gallery, in Gertrude St. (It's above a café named Dante's). Why am I telling you this, dear reader? Because among the works in this exhibition are two of my photographs of the last day at the Punters Club. (Albeit not in their original 640x480 cheap-digital-camera glory; they have since been autotraced and processed into something a bit more interesting-looking, or at least a bit more amenable to being printed on large pieces of paper.)
Anyway, the exhibition opening is this Tuesday the 1st of October, at 6:30pm, at Dante's Upstairs Gallery, 156 Gertrude St., Fitzroy.
This evening I crossed the Yarra and went to Revolver to see Kevin Blechdom and supports; meeting up with Cos there. First up was the obligatory DJ (given that it's in Prahran, I believe there are council zoning requirements mandating DJs in all venues there), playing various electro, including some new Death In Vegas, some Takako Minekawa, a Kraftwerk remix and such.

Next up, local Dadaistic hip-hop collective Curse ov Dialect went up, attired in various costumes (as in robes, face paint and a jester hat; no gangsta bling-bling here), running around the stage, rapping and talking over prerecorded beats, in between running into the audience and grabbing glasses off tables. They were quite good; conceptually more original and innovative than most Australian hip-hop (which tends to consist of knockoffs of Afro-American urban culture, down to the beats and samples, with the token Australian accent and slang terms thrown in).

Next up were The Sailors, who appear to be three post-ironic inner-city hipsters doing Detroit-style rock (with a bit of Beastie Boys thrown in for good measure); either that or one of those New-Saviours-of-Rock bands whose names all start with The. Stylistically not in the same bag as Kevin Blechdom, but similarly fond of innuendo (only of a more homoerotic nature, cf. their Stooges-style opus "Y.C.M.A.", which has nothing to do with the Village People). Perhaps one could classify them as an indie-rock Down Town Brown.
Finally, Kevin Blechdom came on. (For those who aren't aware of this, she is female, and Kevin is not her real name.) She started off by playing banjo, solo or over loops from a Macintosh laptop behind her.

Later she picked up a home-computer MIDI keyboard (adapted into stage gear by the clever expedient of gluing a strap onto it) and started playing that, triggering some Casio-like buzzy warbles whilst singing. She finished with her exquisitely bootywhangular chair-dance to her electropop cover of Tina Turner's Private Dancer, at one stage falling off the chair but soldiering on. Alas, my digital camera ran out of batteries at the time; had it not, I'd have a video file to show for it.
I'm not sure what to make of Kevin Blechdom. On one hand, some of her lyrics are a bit daft (some choice examples: "use your heart as a telephone, and you'll never ever be alone, you see, you'll be with me", "I don't think you understand, bad music is grand -- like a piano!", and a song about breasts exploding in flames which had a schoolyardish puerility about it), and she overacts more than a little, giving the impression of watching an enthusiastic amateur in a talent show. Though judging by her content, I suspect that that may be a deliberate aesthetic choice. OTOH, she's more entertaining than watching some bloke making burbling noises with a PowerBook, or the sort of dull, pretentious twaddle that makes up a lot of "experimental electronica".