The Null Device
2003/11/3
On Friday, I was at Reader's Feast; I looked at a copy of Borges' Book of Imaginary Beings they had on display, and noticed that someone had placed a business-card-sized card inside the front, inscribed thusly: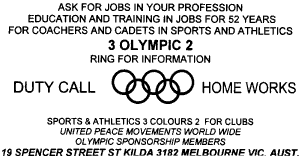 and on the other side: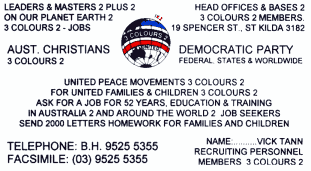 This appears to be the work of the United Peace Movements 3 Colours 2 people, as mentioned on Psychoceramics. It seems that they've now branched out into athletic training and/or home maintenance or something like that, as opposed to their former specialties in international trade and something to do with children and families.
For some reason, I haven't yet called them for information.
Update: A Google search for "united peace movements" "3 colours 2" reveals that they are listed in an online directory of "family planning" services. I suspect that their idea of "family planning" is quite different from most people's.
Yesterday I met Cos at the Carrington Hotel, an old pub in Brunswick which has, so far, escaped the attentions of property developers, and ended up taking lots of photos (in various states of inebriation). Some of the better ones are here:
Via the newly-resurrected bOING bOING: Everything in Moderation is an online forum (run by Tom "plasticbag.org" Coates) dedicated to the management of online communities, and more specifically, to moderating comments, encouraging good behaviour, discouraging trolls and the like. There you'll find fascinating studies in social engineering and useful practical tips such as simulating technical faults to get rid of unwelcome posters without provoking them into a war, and the use of cookies to detect trolls with multiple tentacles.
And, surprisingly enough, the last one received a comment from an "avowed Slashdot troll", outlining how, against a serious troll with access to cookie-poisoning plugins, anonymous web proxies and thousands of trolling accounts (all automated, natch), such a scheme wouldn't work, and giving an outline of a determined troll's formidable arsenal of tools.
The moral of this story is: never underestimate the ingenuity of guys without girlfriends.