The Null Device
2004/7/30
Two US political links lifted from unsworn@lj: apparently President Bush is being heavily medicated by his handlers to control his increasingly erratic behaviour. Which is understandable, as you wouldn't want the Leader of the Free World, say, ordering a surprise nuclear strike on Cuba or suddenly sending British and Australian troops into Canada or something; on the other hand, the drugs are claimed to impair the President's mental faculties and decrease both his physical capabilities and ability to respond to a crisis:
Dr. Frank diagnosed the President as a "paranoid meglomaniac" and "untreated alcoholic" whose "lifelong streak of sadism, ranging from childhood pranks (using firecrackers to explode frogs) to insulting journalists, gloating over state executions and pumping his hand gleefully before the bombing of Baghdad" showcase Bush's instabilities. "I was really very unsettled by him and I started watching everything he did and reading what he wrote and watching him on videotape. I felt he was disturbed," Dr. Frank said. "He fits the profile of a former drinker whose alcoholism has been arrested but not treated."
Meanwhile, some congresspersons are now pushing for UN supervision of the US Presidential elections. Apparently bills banning the UN from monitoring US elections are being or have been passed, though; pity, as it'd have been amusing to see the fraças as France, Zimbabwe, North Korea and Saudi Arabia volunteer officials to the multinational election monitoring team.
Speaking of Our Saudi Friends, they've now proposed an Islamic peacekeeping force for Iraq, which the US has cautiously agreed with. Which all sounds like a case of the fox winning the chicken-coop-guarding contract. Apart from more or less putting the damper on the ideal much promoted by the neocons of a pluralist, secular, McDonalds-enabled democracy arising in Iraq (or, indeed, of Iraqi women even retaining the rights they had under Saddam's neo-Stalinist dictatorship, for that matter), the Islamic militants currently streaming into Iraq to kill infidels are likely to get a rich new sponsor than be put out of business. Osama bin Laden, if he is still alive, must be a very happy man these days.
This afternoon, I saw the Film Festival screening of Dead Creatures. This is basically a British kitchen-sink social-realist zombie film; in it, zombies are just ordinary people like us, with two exceptions: they have an insatiable craving for human flesh and, over the course of a year or so, their bodies start to decay; their condition is the product of some contagious disease, spread by attacks from other zombies. Other than that, they are fully lucid and aware of their predicament, living for the moment, adjusting to killing to survive, and clutching onto futile hope until the end. The film follows a colony of zombiefied women, as well as a vigilante zombie hunter, and shows all stages of the process: a naïve newly-infected recruit adjusting to the realities of their new life, another late-stage victim, delirious and physically decaying, and between that, others rationalising their predatory habits, agonising about the loss of their futures and lives, and coping with the onset of decay. It borrows heavily from the British kitchen-sink tradition: it's set amidst the social decay of working-class London, and the system is oblivious and uncaring; even the vigilantes who hunt zombies do so for selfish reasons rather than out of idealism.
Dead Creatures was made in 2001, before Danny Boyle's more apocalyptic brit-zombie flick 28 Days Later, and, in some ways, is an excellent horror movie. It uses little in the way of special effects (some very convincing prosthetic makeup, latex models of dismembered limbs and the obligatory cool custom weapon, a zombie-killing bolt gun), but its strength is in capturing the despair and futility of those afflicted; of showing the inevitable end, the countless acts of murder committed in the interim to survive to reach it, and then the journey of one newly afflicted. The reality depicted is grim and affecting; one really empathises with the characters, in a way that goes beyond feeling the usual rollercoaster ride of tension and release, and comes out just about ready to donate to a charity to help ease the zombie plight. One could say that this is a horror film for Guardian readers.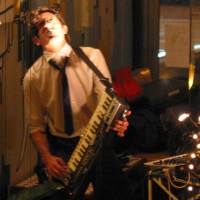 I finally got around to seeing CasioNova, a local musician who plays songs on 80s Casiotone keyboards, 8-bit computers and such. He played at the Kent St. Café in Smith St., getting up on stage attired in white shirt, knee-length pants and knee-high socks, and proceeding to sing and play a number of pop ditties and throw shapes as he played his keyboards. The kit he used consisted of a bunch of Casiotone and Yamaha home keyboards, as well as a Commodore 64 with the Music Machine cartridge and keyboard overlay, and, at one stage, a GameBoy.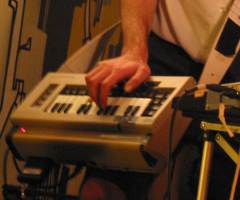 So what was the music like? Somewhere between electropop and outsider music. Parts of it were a bit like electroclash, only without the distressed denim and designer trucker caps, perhaps sounding like The Emergency with lyrics, or a more 1980s-retro Talkshow Boy. There was a definite geeky quality to it; you could tell that this is someone who would rather stay at home and tinker with his gadgets than do cocaine with the coolsies on Chapel St. There was something sincere, improvised and passionately unhip in CasioNova's act, and that's a good thing.
CasioNova's going to an electronic art conference in Helsinki soon (and is raising funds to do so); he announced that he has made a pact to not return if John Howard wins the next election, and if he doesn't get a girlfriend. Before he leaves, he is playing again next week, at the Pink Spunk electro night at Loop, along with some folks named Mink Engine.