The Null Device
2006/4/24
An art gallery in London is having an exhibition of photographs by an outsider artist whose work has been making waves recently. Miroslav Tichý studied art in Czechoslovakia until the Communist authorities took objection to him being "different" and arrested him for subversion; he then spent some eight years in prisons and prison camps. Upon his release, a broken man with little hope for the future, he nonetheless pursued his artistic obsessions, fashioning crude cameras from junk and using them to take surreptitious photographs of women: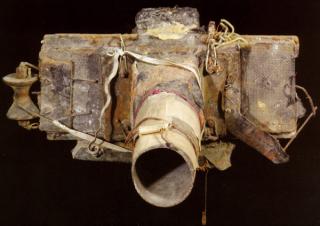 Upon his release in the early 70s, Tichý wandered his small town in rags, pursuing his obsession as an artist with the female form by photographing in the streets, shops and parks with cameras he made from tin cans, childrens spectacle lenses and other junk he found on the street. He would return home each day to make prints on equally primitive equipment, making only one print from the negatives he selected.
He stole intimate glimpses of his subjects through windows and the fences of swimming pools as well as in the streets, sometimes finding himself in trouble with the police. He would often draw intricately on each print in pencil embellishing the images with his lines or reworking them in other ways, Tichý would also sometimes include a card frame around the prints and decorate those too.
The work which might to the casual viewer, simply appear to be intrusive voyeurism, takes on a melancholic and poetic quality. They are exquisitely produced small objects of obsession, which have no equal. He produced work - not for others, but solely for himself without any regard for exhibiting or selling the work to others.
(via Boing Boing) ¶ art miroslav tichý momus outsider art photography voyeurism