The Null Device
2006/6/29
In London, there are official notices everywhere from local councils and the Home Office warning the reader to beware of the criminality of their fellow man:

Momus, who is currently visiting London,
has not failed to notice this
(and, indeed, being an Emotional Communist, he sees it as evidence of the vicious winner-takes-all culture of Thatcherite-Blairite Britain):
It seemed to chime with the odd attitude expressed in an article I read in a British newspaper about an elderly couple who'd been murdered by robbers in their home. While everybody interviewed said what a sweet old pair they'd been, walking into town arm in arm, they were unanimous: these were people you'd almost expect to get robbed and killed, considering what an affluent area they lived in and how old and sweetly defenseless they were. It was almost some sort of Darwinian inevitability that such folks would get chopped up.
Momus picks up on the slogan "leave it on show, expect it to go", and suggests some additional rhyming slogans warning people of the ubiquitous danger around them, whilst at the same time making it clear that they have only themselves to blame if they're insufficiently paranoid:
Walk visibly breasted, get quickly molested.
Say something clever, get ready for bovver.
You died having sex? What did you expect?
Come to Berlin, you won't get done in!
And in the comments, others make their contributions:
peace, love and understanding? we're going to a hangin'
get paid to make art??? we'll just buy it at wal-mart.
take the ipod for a jog, get murdered like a dog.
If you're not waving a flag, they'll call you a fag.

Though not all take as gloomy a view of contemporary British life as Momus does. His old foil, Rhodri Marsden, has a different take:
Get on the bus - you'll have no fuss!
Pop out for a beer, for fun and good cheer!
Let's all have a lark at Finsbury Park!
(via
imomus) ¶ crime culture london paranoia society thatcherism-blairism
Could this be the greatest ever prank played on a 419 scammer? The prankster, who received the usual proposition to help in the transfer of vast sums of money from Africa, posed as art dealer "Derek Trotter" and convinced the scammer or an accomplice to produce incredibly detailed wood carvings of a Creature Comforts figurine and a Commodore 64: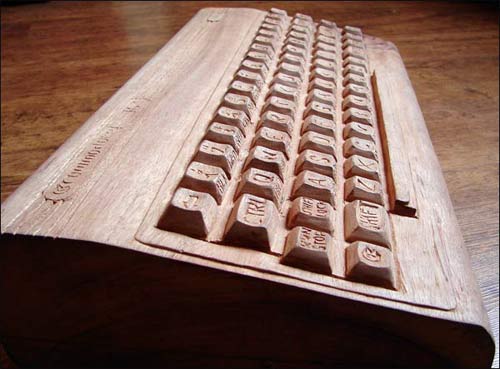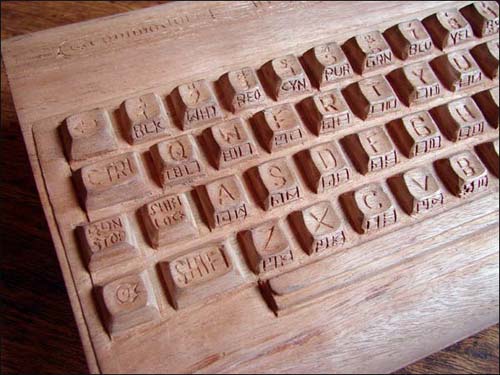 (via Boing Boing) ¶ 0
Spain has become the first country to completely outlaw peer-to-peer file sharing. Under the law, downloading files from peer-to-peer networks is in itself a civil offense, whilst ISPs face criminal sanctions for tolerating file sharing (which, presumably, means not blocking it). Oddly enough, the law also puts a tax on all digital media, with the money going to Big Copyright, presumably to reimburse them for all the content the public is absolutely prohibited from sharing on said media.
That sound you can hear is copyright-industry lobbyists in the rest of the world rubbing their hands with glee as they prepare to push for "harmonisation" of the local laws with Spain's.