The Null Device
2006/7/13
I have just been listening to a recording of a recent Belle & Sebastian gig at the Hollywood Bowl, backed by the Los Angeles Philharmonic. The recording came out very well (with the exception of the usual chattering idiots you get at gigs, though they're not too obstrusive), and it sounds like it was an impressive show; the orchestral arrangements work really well, and some of the songs sound better than the regular versions without an orchestra.
(via Sarah) ¶ belle & sebastian
Filming has commenced on Control, Anton Corbijn's film about Joy Division frontman Ian Curtis:
Control deals with Curtis' romantic conflicts with his wife, Deborah, and his mistress, Annik Honore, his increasingly debilitating epileptic seizures, and his performances with Joy Division. Filming will take place in the English towns of Nottingham and Macclesfield (where Curtis lived and is now buried). The film will be released in the UK by Momentum Pictures sometime in 2007.
Sam Riley, who played Mark E. Smith in 24 Hour Party People, stars as Curtis, Academy Award-nominated actress Samantha Morton plays Deborah Curtis, Alexandra Maria Lara is Honore, James Anthony Pearson is Joy Division/New Order guitarist Bernard Sumner, Joe Anderson is bassist Peter Hook, Harry Treadaway is drummer Stephen Morris, Toby Kebbell is Factory Records partner and Joy Division manager Rob Gretton, and Craig Parkinson is Wilson.
Not a bad cast, though Sam Riley will have a hard act to follow in the chap who played Curtis in
24 Hour Party People
.
Portuguese news magazine Grande Reportagem has produced a series of graphics using countries' flags to illustrate statistics about those countries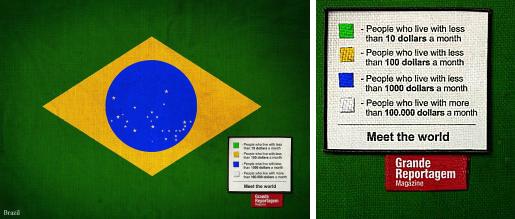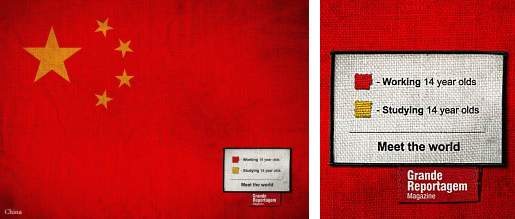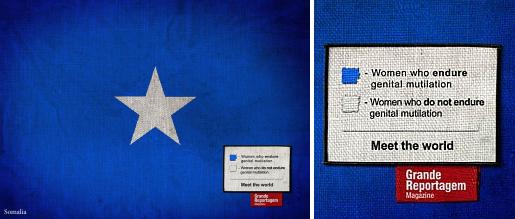 Which looks somewhat like a cross between MAD Magazine and The Economist.