The Null Device
2007/3/21
As part of an ambitious plan to divert all cross-country freight onto the railways, the Swiss are digging a railway tunnel under the Alps. The tunnel, which (at 57 kilometres) will be the world's longest, will form part of a new, faster railway link between Zurich and Milan, and make crossing the Alps quicker and easier than it has ever been:
A key feature of the project, which is new to alpine transport, is the fact that the entire railway line will stay at the same altitude of 500 metres (1,650ft) above sea level.
This will allow trains using the line to reach speeds of 240km/h (149mph), reducing the travel time between Zurich and Milan from today's four hours to just two-and-a-half. That would make the journey faster than flying.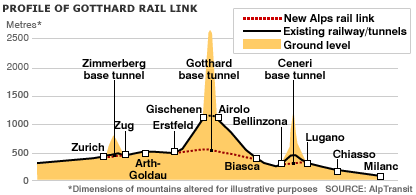 Whilst initially intended for freight, the service is expected to carry passenger trains; an underground railway station has been established one kilometer beneath the village of Sedrun, for use in the construction project, and there are plans to turn it into a passenger station, to be known as "Porta Alpina", or "gateway to the Alps":
Tourists will be able to arrive by train in the Alps in record time, and then be whisked up to fresh mountain air by way of the world's longest elevator.
On one hand, travelling to the Alps by high-speed train, ascending in a lift and emerging in a tiny Alpine village does sound cool. On the other hand, I had the good fortune to travel from Zurich to Milan by the slow way—the train winding around the sides of silvery lakes, crossing bridges over valleys and corkscrewing its way up the Alps on the German-speaking part, going through a (relatively) short tunnel at St. Gotthard's Pass, and then coming back down on the Italian-speaking part, with its entirely different architecture and vegetation, and that was (as you can undoubtedly imagine) a magnificently scenic journey. A tunnel just wouldn't be the same.
After Stephen Fry commented that British actors have an unfair advantage in America because Americans mistake British accents for brilliance, the BBC has published a piece on what a British accent gets you in the US. (And, apparently, a "British accent" includes anything from Hugh Grant plumminess to deepest darkest Geordie.)
"For most Americans, there's no distinction between British accents. For us, there's just one sort of British accent, and it's better than any American accent - more educated, more genteel," says Rosina Lippi-Green, a US academic and author of English with an Accent: Language, Ideology and Discrimination in the United States.
"There was a sitcom called Dead Like Me with a Brit [Callum Blue] in it. He was a scruffy, 20-something drug dealer. Even he had that sort of patina - his was not an RP accent, it was a working class London accent."
Katharine Jones, author of Accent of Privilege: English Identities and Anglophilia in the US, says the "educated and cultured" associations have a long history. "British etiquette books have been used for years; and although Americans say they have no class system, they do - and the American upper class apes the British upper class."
Another point the article makes: British expatriates in Australia (where their accent is associated with complaining and being bad at cricket, and/or where refinement and intelligence have traditionally been associated with weakness and/or metaphorical or literal homosexuality rather than any positive attributes) tend to lose their accents pretty quickly, whereas those in the US (where their accents make them appear intelligent and sophisticated, and often get them preferential treatment) retain theirs. Funny, that.
It's official: a US district court has ruled that household product manufacturer Procter & Gamble are not Satanists, despite the persistent urban legends: More specifically, the ruling smacked down four representatives of Amway, a rival product manufacturer allegedly connected with the US Religious Right and/or operating in a cult-like fashion, of deliberately spreading this rumour and urging a boycott. The defendants denied malicious intent, saying that their goal was merely to "fight the Church of Satan".
To the best of my knowledge the Church of Satan has not issued any statement on the ruling.