The Null Device
2008/12/15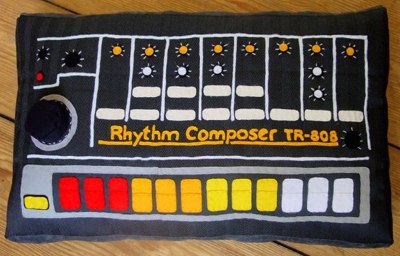 The Independent's Rhodri Marsden has an article about the Roland TR-808, the classic electronic drum machine which became a staple of everything from hip-hop to electronica, from post-punk rock to adult-oriented soft-soul, and now having lent its name to a Kanye West album (somewhat ironically, perhaps, as there is little evidence of any 808s having been used in the making of the album; those who bought it expecting to hear some sweet sidestick-and-cowbell action will probably have reason to be disappointed).
And once you know what you're listening out for, you'll hear the 808 on innumerable tracks. Unfortunately, one of its most widely heard manifestations is the cowbell effect that hammers away like a distressed woodpecker during "I Wanna Dance With Somebody" by Whitney Houston. "That noise is the bane of my life," says Simon Thornton, the producer of Fatboy Slim and countless other British dance acts over the past two decades. "It makes you wonder which person at Roland actually decided that it sounded any good."
But one man's trash is another man's treasure, and Jyoti Mishra, the self-confessed producer of "camp synth pop" and former singles chart-topping artist under the name White Town, considers the same noise to be iconic. "And so are the claves, and so are the handclaps. Of course, they don't sound like handclaps – but strangely, they have somehow become the sound of handclaps. Every drum machine produced since then has had to feature that same kind of noise."
By the mid 1980s, the 808 had helped rap artists such as Run DMC and the Beastie Boys to worldwide success – but it was also dusted off in studios to provide backing for more laidback tunes, such as Marvin Gaye's "Sexual Healing" and "One More Night" by Phil Collins. "I got mine in 1983," says Mishra, "and immediately loved it. And those things it was criticised for – the limitations of its built-in sounds – are what ended up making it so popular."
The 808 pillow in the photo, incidentally, has nothing to do with the article
per se
, but comes from
this article
.
The street finds its own uses for things; in this case, the things are iPhones (though the concept could easly be ported to other, less fashionable, smart phones; an Android version is in the works), and "the street" is FixMyStreet, a system that lets you notify the relevant public authorities of any local problems. At least it does if you live in Britain, where the system runs,.
Meanwhile, Namco have decided to milk the Katamari cash cow once more, with a version for the iPhone: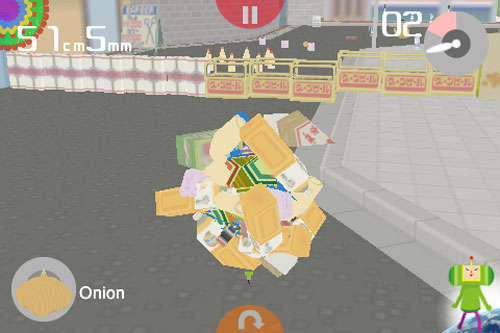 No new twists here; just an adaptation of the classic Katamari game. It uses the iPhone (and iPod Touch)'s tilt sensor as a control mechanism. Unfortunately, the hardware seems to be a bit too slow; when I tried it on my first-generation iPod Touch, it ran infuriatingly slowly. (Perhaps the second generation will work better with it?) The fact that the developers kept the screen-warping effects when you reach a size milestone probably doesn't help either. As such, I can't recommend buying this unless you're desperate for a Katamari fix.
On a tangent: I wonder how Keita Takahashi is getting on with Noby Noby Boy. I haven't heard much about it for a while.
The Graun has an article outlining how to write a Hollywood disaster movie:
A lot of the best disasters – asteroids, aliens, earthquakes, tsunamis – have already been taken, sometimes twice, as in the embarrassing simultaneous releases of Armageddon/Deep Impact and Volcano/Dante's Peak. So you'll have to be a bit creative. Pick something unusual: what if gravity started going sideways instead of straight down, say?
In a cave underneath Mount Rushmore, the president should introduce the scientist to a crack team dedicated to fixing the problem – which should turn out to include his attractive ex-wife as well as a droll Englishman. The three of them should come up with a plan to stop the disaster – the more unrealistic the better. A good one in this case would be to have someone jump off the Empire State Building like a diving board in order to activate a nuclear weapon that would destroy the moon and thus reset earth's gravity; anything like that, really. Watching a cable news channel as they discuss who could carry out this dangerous mission, the team sees a report from the devastated New York, where the cat burglar is leaping across sideways skyscrapers to save an old grandmother's life. "By Jove," says the Englishman, "I think we've found our man!"
The cat burglar dives. The scene cuts to outer space as the moon is destroyed. The sun tilts back on its axis, and back on earth gravity swings gradually back to its normal direction. Buildings right themselves and stand up straight again. Foreigners in turbans or Eskimo furs cheer and hug in far-off locations. The scientist reaches out for the hand of his ex-wife. And the little orphan boy runs up to his cat burglar dad for a dramatic hug, the Empire State Building back to normal behind them. He didn't die after all!