The Null Device
2010/8/30
The latest casualty of the rise of the internet and digital media: the print edition of the (full) Oxford English Dictionary; it comes in 20 volumes, weighs a third of a tonne, costs US$1,165 and, unsurprisingly, isn't selling very well, given that OED provides all its content in a subscription-based web service. As of next year, there may not be a paper edition at all.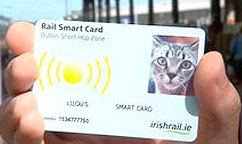 Dublin railway staff used CCTV footage and Twitter to locate the owners of a cat that had wandered onto a suburban train and disembarked in the city centre. The cat, who is named Lilou and commenced her journey at Malahide station (in the suburbs of Dublin) was issued with an electronic smart card to use should she wish to make any future journeys.
Lilou is by no means the first non-human public transport user on record, or even the first feline one.