The Null Device
2012/12/11
In addition to inventing the death machine, helping terminally ill patients end their lives and serving eight years in prison for murder for having done so, Jack Kevorkian also painted.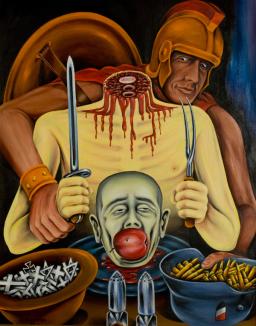 His paintings weren't like the all-too-ignorable kitsch painted by other historical figures like Hitler or Churchill, though, but something heavier odder; they had the surrealism ponderous, didactic symbolism of Eastern European poster art, and Kevorkian's obsessions—death and suffering—were everywhere:
During his prison years, Kevorkian published an anthology called glimmerIQs: A Florilegium, which compiled his serial limericks, philosophical manifestos and scientific treaties, reproductions of his paintings, and even handwriting samples and a natal chart, in case anyone wished to analyze him astrologically. In a chapter called "On Art," Kevorkian rhymes:

The subjects of art should be more
Than the aspects of life we adore;
Because dark sides abound,
Surreal paintings profound
May help change a few things we abhor.
Kevorkian's artworks are on display at the Armenian Library and Museum of America in Watertown, Massachusetts.
The latest in extreme burrito delivery systems: the Burrito Bomber, an Arduino-powered drone which will drop a burrito on a parachute to your GPS coordinates:
It works like this:

You connect to the Burrito Bomber web-app and order a burrito. Your smartphone sends your current location to our server, which generates a waypoint file compatible with the drone's autopilot.
We upload the waypoint file to the drone and load your burrito in to our custom made Burrito Delivery Tube.
The drone flies to your location and releases the Burrito Delivery Tube. The burrito parachutes down to you, the drone flies itself home, and you enjoy your carne asada.
A bit like the
Alameda-Weehawken Burrito Tunnel
, only the authors
have actually built it
. The only reason for it not being operational (other than questions of whether it'd be economical compared to traditional burrito delivery methods) is because it's not yet legal to commercially operate drone aircraft in the United States.