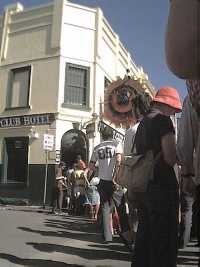 Last drinks, everyone:
Today was the end of a Melbourne institution, the Punters Club; the last day of the venerable pub/band venue's operation, and they chose to go out with a bang. The doors were open for free, and they had bands all day, from 3PM until late in the night. And many people rocked up to pay their respects to the Punters, to have one last pot (or several), tread the sticky carpet for the very last time and reminisce about all the great bands they have seen there, among them your humble narrator. As it was the last ever day at the Punters, and entry was free, the venue was packed soon after 3PM; after that, a long queue formed outside the door, with people being allowed in only when others left. Inside it was pretty tight.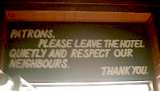 I have seen many good shows at the Punters; I remember when I lived out in Ferntree Gully, driving down to Brunswick St. in my mum's car (I must have known the back streets of Fitzroy quite well then, or at least in terms of parking spots) to see The Paradise Motel there, and a number of bands after that. And now that era has come to an end. It's somewhat sad to have walked out that door for the last time, knowing that it's not a doorway I will pass through again in this lifetime.
To paraphrase one graffito in the Punters, Brunswick Street looks likely to die now that its heart has been ripped out. The street's cultural authenticity is in decline, and Brunswick St. is looking more like Chapel St. with each day that passes. (Even in the queue I noticed a difference between the people lining up to enter the Punters and the people walking down the street; the latter were wearing more designer-logo T-shirts, of the sort that sell for $70 in Prahran.) Oh well, now there's one fewer reason to get off the 112 tram on Brunswick St.
Oh yes, the bands. The first one I saw was some country outfit; then came Ruckrover (some of whose members worked at the Punters), who were very tight and energetic, with perhaps a slight Northern Soul feel to some of their numbers. Then came Disaster Plan, who played (as promised) quietly enough to be drowned out by the crowd, and ended with some rants about the inferiority of the other pubs (the Evelyn, for example), and then was Gaslight Radio, who were also quite good.
There are 2 comments on "":
Please keep comments on topic and to the point. Inappropriate comments may be deleted.
Note that markup is stripped from comments; URLs will be automatically converted into links.