The Null Device
Between the Spires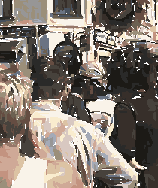 The Fitzroy-themed
Between the Spires
art exhibition, formerly at the Found Project Space (which has since been evicted to make place for a trendy clothing shop or yuppie lifestyle apartments) is now taking place at Dante's Upstairs Gallery, in Gertrude St. (It's above a café named Dante's). Why am I telling you this, dear reader? Because among the works in this exhibition are two of my photographs of the last day at the Punters Club. (Albeit not in their original 640x480 cheap-digital-camera glory; they have since been autotraced and processed into something a bit more interesting-looking, or at least a bit more amenable to being printed on large pieces of paper.)
Anyway, the exhibition opening is this Tuesday the 1st of October, at 6:30pm, at Dante's Upstairs Gallery, 156 Gertrude St., Fitzroy.
There are 1 comments on "Between the Spires":
Please keep comments on topic and to the point. Inappropriate comments may be deleted.
Note that markup is stripped from comments; URLs will be automatically converted into links.