The Null Device
Exhibition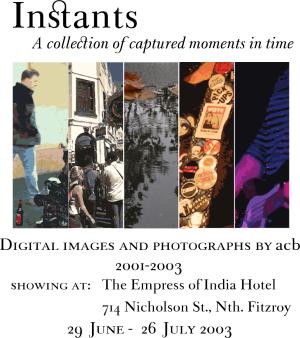 I'm having an exhibition of digital photographs and autotraced prints thereof over the next month or so at the Empress Hotel, 714 Nicholson St., North Fitzroy. (Not a bad choice of venue; they also have some decent bands playing, fairly good food and Guinness on tap.) The exhibition is partly live-music themed, with a number of photographs from gigs, as well as some others. It opens this Sunday the 29th, and runs until the 26th of June.
There are no comments yet on "Exhibition"
Please keep comments on topic and to the point. Inappropriate comments may be deleted.
Note that markup is stripped from comments; URLs will be automatically converted into links.