The Null Device
Atmospheric phenomena
A moderately successful attempt to photograph last night's rather impressive thunderstorm (digital camera, long exposure):

And, in contrast, tonight's sunset, over Brunswick St.: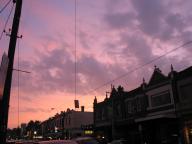 There are 5 comments on "Atmospheric phenomena":
Please keep comments on topic and to the point. Inappropriate comments may be deleted.
Note that markup is stripped from comments; URLs will be automatically converted into links.