A few recent photographs of an old office building in St. Georges Rd, North Fitzroy, that's being demolished to make room for designer lifestyle apartments:
In contrast, here is the same building as it was in June of last year: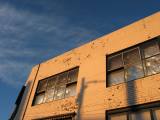 There are no comments yet on "Façade"
Please keep comments on topic and to the point. Inappropriate comments may be deleted.
Note that markup is stripped from comments; URLs will be automatically converted into links.