The Null Device
Chopper Beer
Move over Che: some outfit in Victoria are producing a beer named Chopper Heavy. It's described as "Australian style", and also features on the label an irreverent doggerel verse about the crucifixion of Jesus Christ. I've no idea what the verse has to do with Mr. Read (perhaps he's a poet as well as a hitman and visual artist?), or indeed whether he has licensed his likeness to the brewery.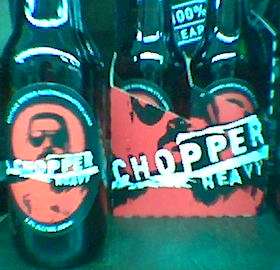 There are 11 comments on "Chopper Beer":
Please keep comments on topic and to the point. Inappropriate comments may be deleted.
Note that markup is stripped from comments; URLs will be automatically converted into links.