I went to the
Four Tet
/
Manitoba
show at the Corner tonight. I arrived as
Qua
was playing; his stuff struck me as being much as it has always been: technically polished and layered, and yet melodically almost completely random; i.e., I'd be hard-pressed to tell the difference between most Qua tracks.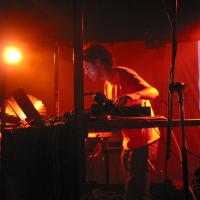 Four Tet was interesting. One guy with a laptop and a box of knobs of some sort (either an analogue mixer or a MIDI controller), rocking back and forth to the music as he controls the laptop. Not really much in the way of theatre, though after a while one got used to mentally coordinating his actions with the changes in the music. Anyway, his music tended towards chopped-up granular loops and glitches; not quite as hardcore as Kid 606 or someone. At the start of one piece, it sounded rather like Neu! or Faust or someone.
(Live laptop acts like Four Tet raise an interesting question: what is it exactly that we're watching? We're not watching him compose the music; it's pre-composed. We're not watching hin play it either; the computer is doing that, and he is controlling it. Chances are, as he put it together, he did so in Cubase or Logic or somesuch, assembling something that, when activated, would produce a sample-perfect copy of the recording, with no interaction required. Only that's not much fun to watch, so he'd have had to have dismantled that and put it into a performance system (like, say, Ableton Live), giving him the ability to control the playing mechanism in real time. So, in one sense, the performance is the ritual of producing an imperfect approximation of something more deterministically constructed. Strange, no?)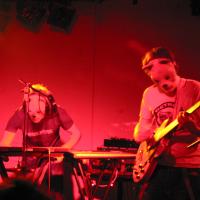 Then Manitoba came on. They were three guys in animal masks (though, thankfully, not full-body fur suits), and had two drum kits, guitars, some keyboards and a glockenspiel. They completely rocked out; drumming frenziedly, moving around the stage with guitars or playing keyboards. (Nobody was playing a laptop or anything quite as un-rock as that.) Mind you, a lot of the sound obviously came from a tape (the vocals, for one; nobody had a microphone), but the fact that the musicians were playing part of it and doing so well made the show. They played predominantly tracks off Up In Flames, though did an encore of sorts with a sampled rap vocal.