The Null Device
CasioNova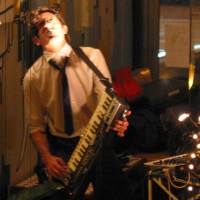 I finally got around to seeing
CasioNova
, a local musician who plays songs on 80s Casiotone keyboards, 8-bit computers and such. He played at the Kent St. Café in Smith St., getting up on stage attired in white shirt, knee-length pants and knee-high socks, and proceeding to sing and play a number of pop ditties and throw shapes as he played his keyboards. The kit he used consisted of a bunch of Casiotone and Yamaha home keyboards, as well as a Commodore 64 with the Music Machine cartridge and keyboard overlay, and, at one stage, a GameBoy.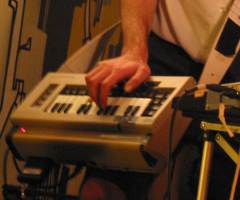 So what was the music like? Somewhere between electropop and outsider music. Parts of it were a bit like electroclash, only without the distressed denim and designer trucker caps, perhaps sounding like The Emergency with lyrics, or a more 1980s-retro Talkshow Boy. There was a definite geeky quality to it; you could tell that this is someone who would rather stay at home and tinker with his gadgets than do cocaine with the coolsies on Chapel St. There was something sincere, improvised and passionately unhip in CasioNova's act, and that's a good thing.
CasioNova's going to an electronic art conference in Helsinki soon (and is raising funds to do so); he announced that he has made a pact to not return if John Howard wins the next election, and if he doesn't get a girlfriend. Before he leaves, he is playing again next week, at the Pink Spunk electro night at Loop, along with some folks named Mink Engine.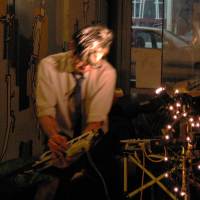 There are no comments yet on "CasioNova"
Please keep comments on topic and to the point. Inappropriate comments may be deleted.
Note that markup is stripped from comments; URLs will be automatically converted into links.