The Null Device
US Patent 6,751,348
Patent of the day:
Automatic Detection of Pornographic Images
: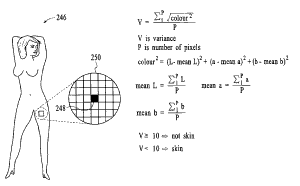 If the pixel color is determined to be "skin" 46, the image is sent to a first shape detection process indicated for example as "face detection" of block 48 wherein steps similar to blocks 26 and 28 of FIG. 1 are performed. If the image is detected as a "face" 50, the image is classified as "portrait" and a manual check/inspection is done only infrequently (block 52). If the image is not a "face" 54, the image is analyzed to determine if it is a body part (block 56) i.e., other than a face. If it is not a body part (58), the image is classified as a "landscape", and this type is only inspected occasionally (block 60) i.e. only a small percentage of these images are inspected manually. If the image is a body part (62), a pose detection is done to determine if there is an erotic position (block 64). If it is determined that the pose is not erotic (66), this image is classified as a "swim suit picture" and the result of the detection may be a "parental guidance" notice attached (block 68).
(via bOING bOING)
There are 3 comments on "US Patent 6,751,348":
Please keep comments on topic and to the point. Inappropriate comments may be deleted.
Note that markup is stripped from comments; URLs will be automatically converted into links.