The Null Device
Charles Darwin has a Posse
A
new range of stickers
for believers in evolution and the scientific method wishing to take the fight to the streets: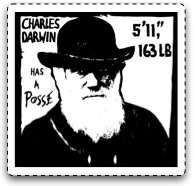 There are 3 comments on "Charles Darwin has a Posse":
Please keep comments on topic and to the point. Inappropriate comments may be deleted.
Note that markup is stripped from comments; URLs will be automatically converted into links.