The Null Device
Identify the elephant
Here in London, the local NME-Carling-commercial-indie-rock station Xfm (for the Melbourne people, they're sort of like Nova FM or an ad-saturated JJJ) has been running a poster campaign for a radio show, featuring the graphic below: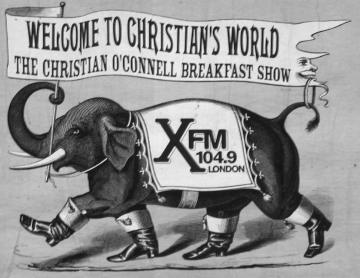 The graphic looked familiar at first; I then recalled that either it or a very similar graphic, right down to the face on the banner gripping the hoop, was used in a flyer for a 1960s Australian garage-rock/beat group (I believe it may have been Running Jumping Standing Still), reproduced in Iain McIntyre's book Wild About You!.
I wonder where the original graphic is from.
There are no comments yet on "Identify the elephant"
Please keep comments on topic and to the point. Inappropriate comments may be deleted.
Note that markup is stripped from comments; URLs will be automatically converted into links.