The Null Device
Heavy Ammunition
Video of the day
: a lot of photos of stickers with a Che-as-Stormtrooper image stuck to urban surfaces of various sorts, edited into a video and set to a scratchilicious DJ Shadow-esque breakbeat mix of the Imperial March from
Star Wars
: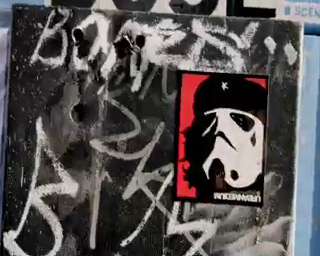 I wonder: is this commentary on the totalitarian nature of Cuban Communism, in the way that
the French Che-as-riot-cop posters
were, or just a random collision of pop-cultural iconography?
There are no comments yet on "Heavy Ammunition"
Please keep comments on topic and to the point. Inappropriate comments may be deleted.
Note that markup is stripped from comments; URLs will be automatically converted into links.