The Null Device
Jing Jing and Cha Cha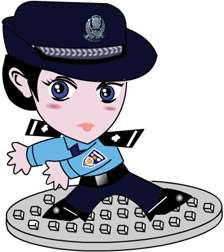 China's pervasive internet surveillance regime now has a new public image: from now on, either various government sites or all websites in Shenzhen will display
cartoon mascots of police officers
(looking big-eyed and oddly Caucasian). Clicking on the mascots will take you to a web page where you can talk with actual members of China's internet police. They do things differently in China.
There are no comments yet on "Jing Jing and Cha Cha"
Please keep comments on topic and to the point. Inappropriate comments may be deleted.
Note that markup is stripped from comments; URLs will be automatically converted into links.