The Null Device
Photoshop horror howto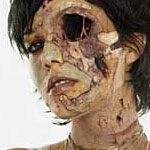 This page
has some interesting-looking tutorials on how to use Photoshop (or the GIMP, for the penguinheads) to transform your family and friends and/or random celebrities/supermodels into hideous, decaying ghouls.
There are 1 comments on "Photoshop horror howto":
Please keep comments on topic and to the point. Inappropriate comments may be deleted.
Note that markup is stripped from comments; URLs will be automatically converted into links.