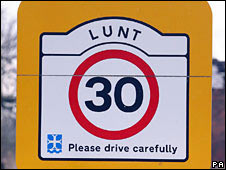 The Merseyside village of Lunt is
considering changing its name to Launt
, because of vandals who keep altering signs in the village, changing the 'L' to a 'C'. The village (records of which date back to 1251) has never been referred to as "Launt", and some villagers are loth to change its ancient name.
Alternately, they could twin the village with the Austrian village of Fucking (whose own villagers voted in 2004 against changing its name).
There are 2 comments on "Lunt":
Please keep comments on topic and to the point. Inappropriate comments may be deleted.
Note that markup is stripped from comments; URLs will be automatically converted into links.