The Null Device
The Goggomobil turns 40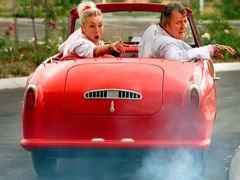 The Age has a piece on
the Goggomobil
. The original was a
microcar
built in 1950s West Germany by a Bavarian company which first ventured into motor scooters (hence, presumably, the pseudo-Italianate name). It is known in Australia because a local businessman managed to obtain a licence to make them locally (as there were severe tariffs on imported cars at the time), substituting a fibreglass body for the metal one. The diminutive, independently made car, which looked like a jellybean and supposedly drove quite well, did quite well in Australia for a few years in the mid-1950s, until competition from the Morris Mini killed it. Though most Australians only have heard of it because of a television ad for the Yellow Pages phone directory mentioned it.
There are no comments yet on "The Goggomobil turns 40"
Please keep comments on topic and to the point. Inappropriate comments may be deleted.
Note that markup is stripped from comments; URLs will be automatically converted into links.