The Null Device
The psychogeography of Facebook profiles
Pete Warden, a programmer and amateur researcher, has analysed the data from public Facebook profiles, including the relative locations of pairs of friends and people's names and fan pages, and used this to
divide the US into seven relatively self-contained clusters
, which he terms "Stayathomia" (i.e., the northeast to midwest), "Dixie" (the old South), "Greater Texas" (encompassing Oklahoma and Arkansas), "Mormonia" (no prizes for guessing where that is), the "Nomadic West" (places like Idaho, Oregon and Arizona, where people's connections span wide areas), Socalistan (i.e., most of California and parts of Nevada) and Pacifica (essentially Seattle). The clusters were derived from performing cluster analysis on the social graph, and not imposed on the data a priori.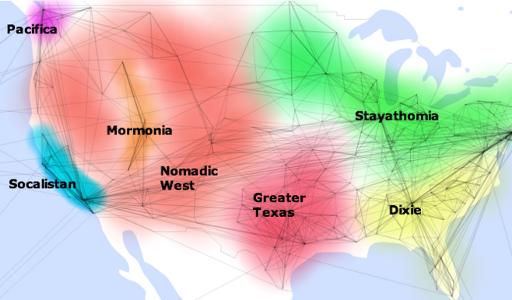 Warden posts various findings he gained from crunching the data on these clusters:
Probably the least surprising of the groupings, the Old South is known for its strong and shared culture, and the pattern of ties I see backs that up. Like Stayathomia, Dixie towns tend to have links mostly to other nearby cities rather than spanning the country. Atlanta is definitely the hub of the network, showing up in the top 5 list of almost every town in the region. Southern Florida is an exception to the cluster, with a lot of connections to the East Coast, presumably sun-seeking refugees. God is almost always in the top spot on the fan pages, and for some reason Ashley shows up as a popular name here, but almost nowhere else in the country.
(Greater Texas:)God shows up, but always comes in below the Dallas Cowboys for Texas proper, and other local sports teams outside the state. I've noticed a few interesting name hotspots, like Alexandria, LA boasting Ahmed and Mohamed as #2 and #3 on their top 10 names, and Laredo with Juan, Jose, Carlos and Luis as its four most popular.
(Mormonia:) It won't be any surprise to see that LDS-related pages like Thomas S. Monson, Gordon B. Hinckley and The Book of Mormon are at the top of the charts. I didn't expect to see Twilight showing up quite so much though, I have no idea what to make of that!
Mormons like their vampires sparkly and pro-abstinence; who would have guessed?
(Socalistan:) Keeping up with the stereotypes, God hardly makes an appearance on the fan pages, but sports aren't that popular either. Michael Jackson is a particular favorite, and San Francisco puts Barack Obama in the top spot.
Warden also has
this tool
for browsing aggregate profiles of countries based on their residents' public Facebook profiles.
There are 1 comments on "The psychogeography of Facebook profiles":