Posts matching tags 'bruce sterling'
2013/8/4
Bruce Sterling has written a witty and insightful essay about the NSA leaks and the Edward Snowden situation:
This is the kind of comedic situation that Russians find hilarious. I mean, sure it's plenty bad and all that, PRISM, XKeyScore, show trials, surveillance, threats to what's left of journalism, sure, I get all that, I'm properly concerned. None of that stops it from being hilarious.
Modern Russia is run entirely by spies. It's class rule by the "siloviki," it's Putin's "managed democracy." That's the end game for civil society when elections mean little or nothing, and intelligence services own the media, and also the oil. And that's groovy, sure, it's working out for them.
Citizens and rights have nothing to do with elite, covert technologies! The targets of surveillance are oblivious dorks, they're not even newbies! Even US Senators are decorative objects for the NSA. An American Senator knows as much about PRISM and XKeyScore as a troll-doll on the dashboard knows about internal combustion.
If you're a typical NSA geek, and you stare in all due horror at Julian, it's impossible not to recognize him as one of your own breed. He's got the math fixation, the stilted speech, the thousand-yard-stare, and even the private idiolect that somehow allows NSA guys to make up their own vocabulary whenever addressing Congress (who don't matter) and haranguing black-hat hacker security conventions (who obviously do).
The civil lib contingent here looks, if anything, even stupider than the US Senate Intelligence Oversight contingent — who have at least been paying lavishly to fund the NSA, and to invent a pet surveillance court for it, with secret laws. That silly Potemkin mechanism — it's like a cardboard steering wheel in the cockpit of a Predator drone.
And, yeah, by the way, Microsoft, Apple, Cisco, Google et al, they are all the blood brothers of Huawei in China — because they are intelligence assets posing as commercial operations. They are surveillance marketers. They give you free stuff in order to spy on you and pass that info along the value chain. Personal computers can have users, but social media has livestock.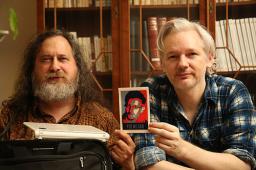 So, the truth is out there, but nobody's gonna clean up all that falsehood. There is no visible way to make a clean break with the gigantic, ongoing institutional deceits. There's no mechanism by which any such honesty could be imposed. It's like reforming polygamy in the Ottoman Empire.
People, you couldn't trust any of these three guys to go down to the corner grocery for a pack of cigarettes. Stallman would bring you tiny peat-pots of baby tobacco plants, then tell you to grow your own. Assange would buy the cigarettes, but smoke them all himself while coding up something unworkable. And Ed would set fire to himself, to prove to an innocent mankind that tobacco is a monstrous and cancerous evil that must be exposed at all costs.
¶ bradley manning bruce sterling edward snowden julian assange nsa post-democracy richard stallman russia surveillance usa wikileaks
2010/12/23
2010/6/26
2009/1/5
2003/10/7