Posts matching tags 'cargo cults'
2012/2/25
While punk rock may be just another retro lifestyle brand in the West, in some parts of the world, it still means something; perhaps nowhere more so than Burma, a police state ruled with an iron fist by a military dictatorship.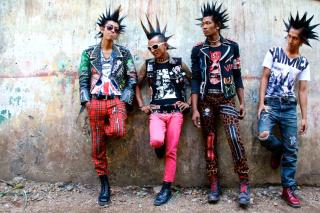 Punk arrived in Burma on cassettes smuggled in by sailors, and soon struck a chord with a young generation who had seen their future smashed under the fist of the state; as the junta cracked down on the "Saffron Revolution" which had been led by Buddhist monks, Burmese youth found a voice in its fiery rage, and soon adopted the semiotics of punk, born in remote 1970s London and New York, as banners of their anger at the state.
In Burma, punk is far more than just a superficial copy of its Western counterpart. Here, what is probably the most rebellious of all subcultures in the Southeast Asian country is going up against one of the world's most authoritarian regimes. Punk gives young Burmese a chance to symbolically spit in the face of the hated government, which took power in 2010 in the wake of what was widely considered a fraudulent election.
"The government keeps the people in poverty," says a 30-year-old who goes by the name of Scum, spitting on the ground. "It's a daily struggle just to get by." Protests are rarely possible, he says. Scum is one of the leaders of Rangoon's punk scene. He is sitting on a tattered sofa, the only piece of furniture in his narrow one-room apartment. Dirty dishes are piled up on the floor. In the corner, there's a box with English-language books. Scum studied literature, but now he makes a paltry income selling tickets for an illegal lottery. He refuses to have a legal job because he says it "would only be supporting the government."
Ko Nyan organizes most of these punk concerts. The 38-year-old makes a living selling punk T-shirts and CDs at a market stand in Rangoon. He is also one of Burma's original punks. In the mid 1990s, he read an article about the Sex Pistols, the legendary British punk band, in a music magazine he fished out of the British Embassy's garbage. Ko and his friends try to imitate the look of the musicians they saw, which comes as a shock to their countrymen. "When we walk through the market, everyone just stops and stares at us," he says. "They have no idea what punk is and just think we are crazy."
What's interesting to me is how Burma's angry youth have taken a foreign cultural phenomenon (and one now confined to the cozy past in its country of origin; there's even
a punk rock compilation from the National Trust
for visiting Anglophiles to take home alongside their diecast model Routemaster bus and Kate and Wills teacups) and repurposed it into something new
without changing its outward appearance
. Looking at the attire of the punk scene members in
the photo gallery
accompanying the article, there are few if any references to Burma, its culture or politics; instead, one sees English-language slogans and band names of the sort one could find at a stall in Camden Market, as well as meticulously assembled collections of studded leather jackets and tartan bondage trousers. (One of the interviewees recounts working for a year in a textile factory to buy his leather jacket; upon reading this it is tempting to contemplate the exquisitely ironic possibility that similar factories were making Sex Pistols T-shirts for export to teen boutiques in the West.) Yet
another young punk wears a vest printed simply with the Union Jack
, a provocative symbol lobbed with weaponised irony in the malaise of 1970s Britain, though in Burma (a former British colony), I imagine its connotations would be quite different. And yet, the gravitas of Burma's situation takes these acts of almost cargo-cultish copyism and imbues them with a fresh radical meaning.
¶ burma cargo cults culture fashion politics punk totalitarianism
2008/3/27
2004/5/22
2004/5/11