Posts matching tags 'chickfactor'
2012/11/21
This past weekend, I went to the London edition of the Chickfactor indiepop zine's 20th anniversary gigs. The zine was founded in 1992 by two American girls, Pam Berry and Gail O'Hara, and whilst its printed output has tapered off somewhat (though issue #17, now funded through Kickstarter, is coming out soon), has continued as a website. Consequently, they've been organising commemorative gigs throughout this year. Earlier this year, I had flown to New York to attend the Brooklyn gigs they organised, largely because it was quite possibly my only chance to ever see The Softies play live (and it was worth it and then some, but that's another post). Anyway, Chickfactor had for a long time had a connection to London; having been founded by American indiepop kids, a subculture with an inherent Anglophilic streak (often coloured by a stylised, mildly anachronistic swinging-60s aesthetic; witness the summer dresses and severe Mary Quant bobs favoured by girls in the scene). One of the founders, Pam Berry (also of Black Tambourine) married an Englishman and ended up in London, while the other, Gail O'Hara, spent some time living in London in the early 2000s, and had a weekend festival, Mon Gala Papillons, at Bush Hall in 2004 (one of whose nights I ended up attending). So a London festival was only a matter of time.
I didn't go to the film screening (of Take Three Girls, the documentary about post-punk girl band Dolly Mixture, which I had seen before) on Friday, largely because I had already bought a ticket to the Rodriguez gig at the Roundhouse (which was great, incidentally). I went to the Saturday evening gig (back at Bush Hall, around the corner from where I used to live, but inconveniently far from everywhere else), and to the Sunday afternoon/evening gig, which was held at that haunt of London indiekids of a certain age, the Lexington.
Saturday's gig started off with Amor de Días, Lupe from Pipas' new project with her partner, Alasdair from The Clientele. It was as one might imagine; more languid and dreamy than the indiepop of Pipas, and redolent of the psychedelic folk of the Sixeventies in its languor. They were followed by the Would-Be-Goods, a band started by the teenaged Jessica Griffin in 1987, launched with a mildly saucy song about modelling for the photographer Cecil Beaton, which they followed with some highly literate pop songs. The Would-Be-Goods have kept to the jangly indiepop formula for the most part, though have matured somewhat in their themes; whilst some songs are set in the language of youthful friendships and crushes that is the idiom of indiepop (Temporary Best Friend, for example), others anticipate old age and its miseries (Too Old, for example, a song which sits next to Platinum by their fellow él Records alumnus Momus in the canon of starkly, heartrendingly beautiful meditations on the passing of time and all of its crimes). Shortly after the Would-Be-Goods' set finished, the room started to pack out in anticipation of The Aislers Set. They did not disappoint; they tore the roof off the place, much as they had done in Brooklyn. The evening was rounded off nicely with The Pastels, who played a mostly mellow set.
Sunday started with The Starfolk, a husband and wife duo from the US, who played a guitar-driven pop. They were followed by Harvey Williams and Josh Gennet (who had been in a band named Holiday in the US), who played a selection of songs (mostly Harvey's, with some of Josh's and some covers of female singer-songwriters; their version of Broadcast's "Colour Me In" was lovely). Harvey hadn't been busy at work on new material, though had one recent song ("Quiet Domesticity", a paean to staying at home) and had updated The Girl From The East Tower with a verse about the aforementioned girl losing her job (which turned out to have been at the BBC, where Harvey also works) due to not willing to relocate to Salford. The Real Tuesday Weld played a set a bit later, and had morphed into a more swing style in the years between their initial dealings with Chickfactor and now. They were followed by Pipas; it was great to see them. They had a new song, The Occasion, which they débuted at the Chickfactor 2012 US dates, though it has evolved slightly since.
The night was rounded off with Tender Trap, Amelia Fletcher's band, who rocked harder than I expected; stand-up drums, skronky guitars and female vocal harmonies, backing vocals themed with the old youthful themes of boyfriends and girlfriends and such; Amelia seems to do such pop better than the more grown-up themes and mellow sounds of her previous Tender Trap albums.
One thing that was inescapable at the Chickfactor gig was a sense of the passage of time. It was the 20th anniversary of a zine from the golden age of zines (after desktop publishing made them cheap and quick, but before the internet made them redundant as a means of communication) and arguably of a certain type of indiepop, and many of those who were involved back in the day are approaching or well into middle age, often with children. (The drink coasters printed for the US dates read "doing it in spite of the kids".) It was interesting to see how the indie kids of yesteryear squared their love of and identification with an intrinsically youthful genre with their age and adult roles in life. Harvey Williams wrote a song, with the dry wit familiar to those who remember Another Sunny Day and his solo album on Shinkansen, about the mild joys of not going out (a contrarian stance which parallels the anti-machismo of his youthful work, along with that of his Sarah Records peers). Jessica Griffin, who (whilst presumably still in her 30s) wrote a sad song about the ravages of aging, doesn't expect to be still doing this sort of thing in ten years' time, while Amelia Fletcher has taken the opposite route, embracing the formalism of indiepop as ballads of youth in the vinyl record age (her band's previous album was titled Dansette Dansette, after a 1960s-vintage record player), can see herself singing songs about boyfriends and girlfriends (and, presumably, the ideal boyfriend's record collection) when she's 80.
Anyway, photos are being posted to the usual place. I managed to get some video with my iPhone, which has been collected here. Check back here in some 10 years' time for reportage from the Chickfactor 30th.
2004/12/31
Recordings of 2004
Morrissey, You Are The Quarry. Moz is back, and in fine form. His youthful alienation is turning into the crankiness of a lonely old man, but he still can write a good song (and give a good show).
Pipas, Bitterclub. A new EP from this London electropop duo; A classy mixture of indiepop vocals, glitchy beats and guitars.
The Radio Dept., Lesser Matters. Well-crafted indiepop with guitars, synths, Casio drum loops, good chord progressions and songwriting and just the right amount of Kevin Shields influence.
Talkshow Boy, Watch As I Perform My Own Tracheotomy. Apparently not out yet, though I got an advance copy, and it's a cracker of an album. It's 20 tracks along the same lines as the Ice Police single; glitchy yet catchy electropop with razor-sharp stream-of-consciousness lyrics and titles like Ruff Lovin' In A Tuff Neighbourhood, Go Hard Or Go Home (I Wanna Tweak Yr Moog) and OMG I <3 Livejournal (And My Livejournal <3's Me).
And a few other mentions, honourable and otherwise. The new Stereolab album, Margerine Eclipse was good, though no track leapt out at me in quite the way that various tracks from previous releases have done. The long-awaited New Buffalo album was, to be honest, a bit disappointing; in building her home studio, Sally seems to have mislaid her analogue drum machine, and gone away from the layered glitchiness which made About Last Night (and early live versions of many of the songs) such a delight. Meanwhile, Björk's Medulla didn't grab me; making tracks entirely out of voice samples is an interesting experiment, though the result I'm not sure about. And then there were all the calculatedly commercial post-Interpol/Franz Ferdinand bands like The Killers.
There are a few recordings released in 2004 which I didn't get to check out properly before the end of the year, such as Minimum Chips' Sound Asleep, the Arcade Fire's Funeral and the new Styrofoam. Or, indeed, the new Interpol album. My excuse is that a lot of the money which would have gone on CDs was instead squandered on food and rent in one of the world's most expensive cities; I'll probably catch up on them in the first half of 2005.
Some other bands I discovered this year: GirlsAreShort (a Canadian electropop act), Remington Super 60/Nice System (a Norwegian lounge-pop/bossa-pop outfit), a wealth of British indie from the late 1980s and 1990s, including parts of the Sarah Records back-catalogue I hadn't heard (of) before (key bands being The Wake, The Bodines, and various bands from the Sound of Leamington Spa compilation series) and Azure Ray (an all-female indie duo from Nebraska). Not to mention an appreciation of Electric Six's, Fire (they're like the Scissor Sisters with balls or something; tacky but fun).
Top gigs of 2004 (in alphabetical order):
BAM BAM in a backyard in Fitzroy in April. I was blown away by their energy and musicianship. They rock hard and look sharp, and if anyone deserves to make it big, it's them. And it looks like things are happening for them.
Belle & Sebastian at the Palais in St Kilda. Easily the gig of the year. They tore the roof off the place. People were dancing in the aisles and all. The band bantered with the audience, did an AC/DC cover, and at one stage, a girl from the audience got up on stage, sang the vocals from Lazy Line Painter Jane with them and did a perfect job of it.
Le Tigre at the Islington Academy (in London, natch). Half of it was prerecorded (though they did play guitars/keyboards and sing), though the visuals and stage performance were good to behold.
The Chickfactor Mon Gala Papillons night in Shepherd's Bush (also in London). Stevie Jackson from Belle & Sebastian did a few quite nice songs, and Pipas took their act to the stage.
The Radio Dept., at Barfly, Camden. They're as good live as on record.
Radiohead at the Rod Laver Arena (back in Melbourne again). Gigs at arenas usually suck, because of the binoculars factor, but Radiohead put on a good show, despite Thom's voice faltering somewhat. Their use of the video screens was quite creative too.
Schmoof, at the Water Rats in London. Slick if slightly silly tongue-in-cheek electropop with rock theatrics worthy of Spinal Tap and visuals handcoded in BASIC on a ZX Spectrum.
Not to mention multiple gigs by various excellent Melbourne bands, including The Rumours, Season and City City City, not to mention the aforementioned BAM BAM and Talkshow Boy.
2004/12/11
This evening, Your Humble Narrator went to the first night of Mon Gala Papillons, a two-day indie-pop festival organised by Chickfactor, at a rather plush music hall in Shepherd's Bush named, appropriately enough, Bush Hall.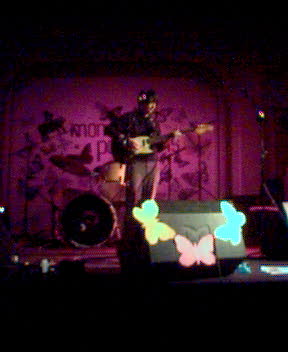 First up was Amy Linton, of Aislers Set fame; she strummed an electric guitar and played/sang a few songs, and was quite good. Seeing her brought back some memories; the last time I saw her play was in a backyard in Clifton Hill, when Stewart and Jen were honeymooning/holidaying/touring in Australia.
Next up were a female duo from New York named Mascott. Their set started with one of them (Margaret) on stage, playing violin, as the other played a grand piano (located in front of the stage) and sang. The first song was lovely; it reminded me a bit of another New York resident, Greta Gertler. Afterward, the pianist took the stage and picked up a guitar. Some of the other songs were quite nice, though I thought that the first one stood above them all.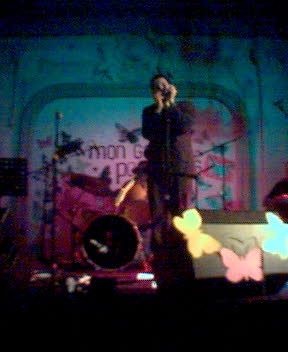 Third on was a solo set from Stevie Jackson, of Belle & Sebastian. He went up on stage, smartly dressed in a suit and tie, and started off playing Ode To Joy on the harmonica, before launching into his own numbers. He didn't play any Belle & Sebastian songs that I recognised; mostly his own songs, and mostly ones about girls (because, as he explained, he likes girls). The songs included "Portland, Oregon", "Phone In My Head" (which was particularly nice), and "Lonely Pop Star", as well as a Belle & Sebastian-style rendition of Frosty the Snowman (which someone requested), and a song he said he learned from Alex Chilton toward the end.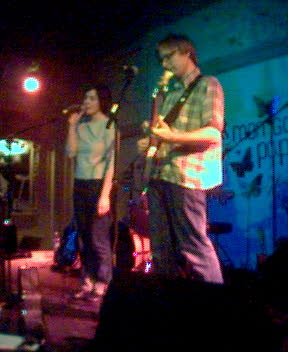 Then on came electro-pop duo Pipas, a girl with shortish brown hair in a stripy top and a guy with a bowlie haircut and glasses in a chequered shirt. They had a PowerBook on stage, which they mostly used to play backing tracks (and a bit of keyboards), over which they played guitar and bass and sang, performing songs off their recent EP and past albums. They were a little shambolic, but generally pretty good.
Finally, the Television Personalities came on. I was expecting them to be like XTC or Wire or The Fall or someone, but they were more Mod-revivalist, right down to the bassist having a Royal Air Force roundel and Vespa logo on his bass.
(Apologies for the crappy photos; I left my PowerShot G2 at home, and had only my futurephone to take photos with. I really need to get a decent camera that fits comfortably in a pocket and gives me no excuse to not take it to gigs.)