Posts matching tags 'creepy'
2006/6/7
The latest bizarre Japanese product is Photogenic Masks, which "have been created for anyone who desires to become a girl quickly and easily" (presumably one of those Japanese market niches that doesn't translate so well abroad). The graphic says it all: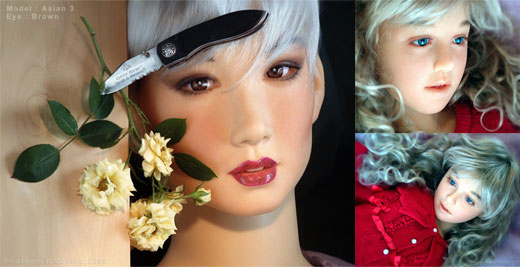 If the plasticky, platinum-haired faces straight out of Mori's Uncanny Valley didn't quite induce the appropriate sense of unease, the knife stabbing the flower helps nicely.
(via Gizmodo) ¶ bizarre creepy japan mori's uncanny valley
2003/4/8
Blogs can save lives. For example, feedback from helpful readers can tell you if the amazingly cool new girlfriend you just posted about is, in fact, a sociopathic compulsive liar with a long history of screwing people over.
Then Whistleblower followed with a series of identity theft stories. New Girl would steal online photos of various gothgirls and claim to be them in various chat rooms, chatting up gothguys and in some cases convincing them to fly up to meet her. One poor guy came incredibly close to doing so until the person whom she was posing as managed to warn him.
("Gothgirls"? "Gothguys"? Here's clue #1...)
[someone else] then told me about how she and New Girl met, at rehab meetings. Rehab?! And later, since New Girl had no place to stay, she let her stay on her couch. They grew closer and became lovers. Lovers?! And then came the story about how New Girl tried to hide her pregnancy. Pregnancy?!
(via bOING bOING)
2002/8/14
An article looking at the miasma of creepiness hanging over Adelaide, and in particular at its unusually generous proportion of grisly serial murders, and also the social phenomena that may amplify the cultural effects of such. No mention of zoo animal mutilations though.
2002/7/9
Denial's not just a river in Egypt A morbid new trend sweeping the USA: parents commissioning digitally retouched images of stillborn babies to make them look alive, or indeed sufficiently ungruesome to show off:
Her work is grueling -- she spends two to four hours on each picture -- but she has yet to turn down a photograph, no matter how grisly. Some of the photographs she gets are of 20-week fetuses with transparent skin. Others are of babies that have been dead in the womb for so long that their facial features have dissolved, requiring her to redraw them.
The next logical step would be to use photograph-aging software to interpolate the photographs into the life that never existed; advanced software would use the original photograph, as well as those of parents and siblings, to generate "photographs" of the phantom child at various ages, "growing up" in realtime in a frame on the mantlepiece. I can see a sci-fi/gothic-horror short story in this...
2002/6/18
A minor bump, always apparently the woman's fault, was usually followed by an informal cash settlement and months of telephone calls and rejected invitations to dinner. When a number of victims complained to police of harassment, the scale of Cabiale's hazardous dating game was quickly exposed. Police searching his flat found 2159 photographs of damaged vehicles and their female owners, all taken by Cabiale immediately following his accidents. An address book was also found, containing hundreds of names and phone numbers, all belonging to women aged between 20 and 40.
In one of Cabiale's cars investigators found a mechanism that temporarily disabled the vehicle's brake lights.