Posts matching tags 'dating'
2014/5/15
2011/1/18
2010/12/14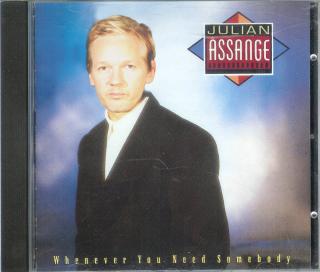 More on WikiLeaks editor/international supervillain/New World Order martyr Julian Assange: What looks like Assange's OKCupid profile, last updated in 2007. His screen name was "HarryHarrison", after a scifi author best known for his Stainless Steel Rat stories, about an anarchist antihero:
Passionate, and often pig headed activist intellectual seeks siren for love affair, children and occasional criminal conspiracy.
I like women from countries that have sustained political turmoil. Western culture seems to forge women that are valueless and inane. OK. Not only women!
I am DANGER, ACHTUNG, and ??????????????!
Meanwhile, an Internet Archive mirror of Assange's blog/website/
.profile
page is
here
. It's a good admixture of the hyper-lucid, the paranoid and the somewhat creepy. (If Assange does get a rape trial with a jury, some of the opinions he expressed about women could swing it to a conviction.)
Mathematics is a systemization of communicable human thought created by brain architectures that have male-type spacial abilities and extremised by the extremes within that group. Extreme female brain architectures would create a different sort of mathematics. It won't be created by the females currently in mathematics because they need a male type brain to thrive in the existing mathematical world. Perhaps a good cognitive neuroscientist will do it for them.
One of the devout was the lovely daughter of a New Castle minister. At some point in my unintended wooing of her, she looked up, fluttered her eyelids and said 'Oh, you know so much! I hardly know anything!'. 'That is why you believe in God," I explained. This conversational brutality took her breath away and she swooned. I was exactly what she secretly longed for; a man willing to openly disagree with her father. All along she had needed a man to devote herself to. All along she had failed to find a man worthy of being called a man, failed to find a man who would not bow to gods, so she had chosen a god unworthy of being called a god, but who would not bow to a man.
And here is Dogs In Space director Richard Lowenstein's account of his online discussions with Assange in 1994, about a possible film based on the Melbourne hacker underground.
(via Boing Boing, MeFi) ¶ 1
2010/11/4
2010/9/15
2010/8/11
2010/4/29
2010/1/21
2009/10/24
2009/2/13
2008/9/22
2007/11/26
2006/2/14
2004/4/2
2004/3/17
2004/2/14
2003/8/21
2003/7/22
2003/5/21
2003/5/20
2003/4/8
2003/3/3
2002/8/8
2002/5/2
2002/4/12
2002/2/10
2002/1/16
2000/12/4
2000/5/8
1999/8/28