Posts matching tags 'faux pas'
2008/12/9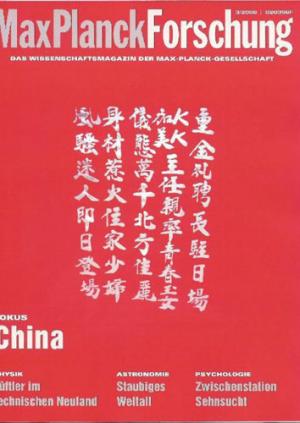 There are red faces at the Max Planck Institute, after the institute published an issue of its journal with a special report on China, and decided to include some Chinese characters on the cover for visual impact. Unfortunately, they didn't seem to have any Chinese speakers on hand, and after the journal went out to publication, it was discovered that the text on the cover was from a flyer advertising a brothel, describing in lascivious detail the talents of the "pretty-as-jade housewives" therein:
Editors had hoped to find an elegant Chinese poem to grace the cover of a special issue, focusing on China, of the MaxPlanckForschung journal, but instead of poetry they ran a text effectively proclaiming "Hot Housewives in action!" on the front of the third-quarter edition. Their "enchanting and coquettish performance" was highly recommended.
The Max Planck Institute was quick to acknowledge its error explaining that it had consulted a German sinologist prior to publication of the text. "To our sincere regret ... it has now emerged that the text contains deeper levels of meaning, which are not immediately accessible to a non-native speaker," the institute said in an apology. "By publishing this text we did in no way intend to cause any offence or embarrassment to our Chinese readers. "
The faux pas apparently caused much amusement amongst Chinese internet users, with the exception of some who thought it was a deliberate insult to China. Then again, some people said the same thing about
that Guns'n'Roses album
. Having said that, this is by no means the first instance of clueless Westerners making fools of themselves in Chinese:
There are tales of drunken teenagers walking out of tattoo parlours with characters reading, "This is one ugly foreigner" or "A fool and his money are easily parted". Another web-user wrote: "I recently met a German girl with a Chinese tattoo on her neck which in Chinese means 'prostitute'. I laughed so loud, I could hardly breathe."
The brothel-keeper could not be reached for comment.
¶ chinese faux pas germany language oops prostitution sex translation
2008/2/1
2003/9/17
TV chef Jamie Oliver has apologised after wearing a T-shirt supporting Sri Lankan guerilla group the Tamil Tigers on one of his TV shows. All I can say is they should be glad they don't have Cameron Potts as an anchor.
2003/8/14
The Spanish troops sent to patrol Iraq are wearing the symbol of an anti-Moorish crusader. Spain's 2,000-strong contribution to Truth, Justice and Cheap SUV Fuel wear on their shoulders the Cross of St. James of Compostella, popularly known as "Matamoros" or "the Moor killer" for his role in the Christian reconquest of Moorish spain. The troops will patrol the sacred Shia city of Najaf.
Stupidity, or a calculated "fuck you" to the Islamic world? Perhaps someone in charge wants to foment anti-Western resentment in the Islamosphere, for some reason or other; like keeping McWorld in a permanent (and profitable) state of siege? (via Anthony)