Posts matching tags 'hipsters'
2015/12/14
This week, the culturally-capitalised twentysomethings of Dalston got a rude shock, discovering that acclaimed basement music venue Power Lunches was suddenly closing, citing the increasing difficulty of operating in a wealthy, expensive city such as London:
Hi everyone and thanks for your kind messages. Yes I'm afraid we are closing, in the last year it has become financially unviable for us to carry on without compromising the integrity of what power lunches is known and loved for. We all know it it has become increasingly difficult to do good stuff in a city that is so focused on making a profit without much concern for anything else but we've had 4 great years and we hope everyone will remember us fondly knowing we did our best to support independent bands and promoters in London.
Power Lunches currently occupies a shop front and its basement on Kingsland Road, the stretch of the A10 that goes north from Shoreditch and Hoxton, through Dalston, and on to Stoke Newington and beyond. In Dalston, it is not yet the ritziest stretch of road; there, low-end restaurants compete with thrift shops, off-licences and the headquarters of religious groups. Power Lunches itself occupies what looks like it used to be a greasy-spoon caff, and its name is a hipster-ironic nod to this authentically insalubrious background. The space has a bar, with a fridge full of Red Stripe and Swedish cider, and some cafeteria tables; a staircase by the door leads downwards to a cramped, sweaty black-painted box, which is where the gigs, ranging from twee pop to hardcore to various permutations of drone, psych, electro, *wave, *core, hard-* and so on, have taken place. The capacity isn't great, and in the summer it can be almost insufferable, though in its four years, the venue has made a name for itself.
Dalston itself, sometimes referred to as "Dalliamsburg", has become a hipster colony of sorts, once Shoreditch (the place that held this title at the time of Nathan Barley) was given over to luxury apartments, designer hotels, exclusive bars and/or stag parties from Essex. Still showing signs of grunginess, and having been dangerous in living memory, it gradually got colonised by waves of twentysomethings with arty haircuts and social rituals involving obscure tastes in music, the production of art, and the consumption of pulled pork. Bars playing subgenres of house music opened beneath ocakbasi restaurants; then Jamaican old-man's pubs were taken over and started laying out the craft beer and putting on gigs that definitely weren't lovers'-rock; obtaining a decent flat white became a lot easier; and before long, cult films had displaced Turkish films at the Rio Cinema and, just up the road, a pizza joint themed around 1980s electronic music opened. A billboard around the corner shows gig listings, festivals and the occasional full-sized ad for the new album from a critically-acclaimed underground band. Meanwhile, nestled in the side streets, the Berlinesque concrete space of Café Oto hosts chin-strokingly experimental gigs, from free jazz to electroacoustic minimalism to ; above it, a roof garden screens cult movies in the summer.
Of course, the days of any such a milieu would be numbered, and in rapidly gentrifying London, even more so. The borough of Hackney, in which Dalston and various other trendy areas are located, boasted the fastest rising property prices in London (which is itself a high bar), year over year. As the area's cheap rents disappeared, the typical Hackney hipster became considerably wealthier, as a result of the less wealthy having been selected out. The area still had its cachet, and the free market provided; former family homes were converted by cowboy landlords into sets of subminiature one-bedroom flats (the bedroom slightly larger than a double bed, the kitchen barely big enough for a microwave and a bar fridge, and the "living room" being a slightly bulbous corridor), rented out at a premium to young people, their actual bulky possessions safely in storage in their parental home in Bromley or Cheam or somewhere, wanting to spend a few years living the Hackney Hipster Experience; being in staggering distance of cool bars, arty parties and engaging experiences, before eventually coupling up with someone who started off as a particularly successful Tinder date and buying somewhere together near Leyton. For the richer cool kids with the hefty parental trust funds, there's the chance to buy and ride this thing all the way to the top.
Fast forward by a few years, and luxury apartment complexes start going up, the marketing material has lost the hipster angle and no longer pretends that there's anything "arty", "funky" or "bohemian" about Dalston; the model aspirational Dalstonite of tomorrow being more Patrick Bateman than Nathan Barley: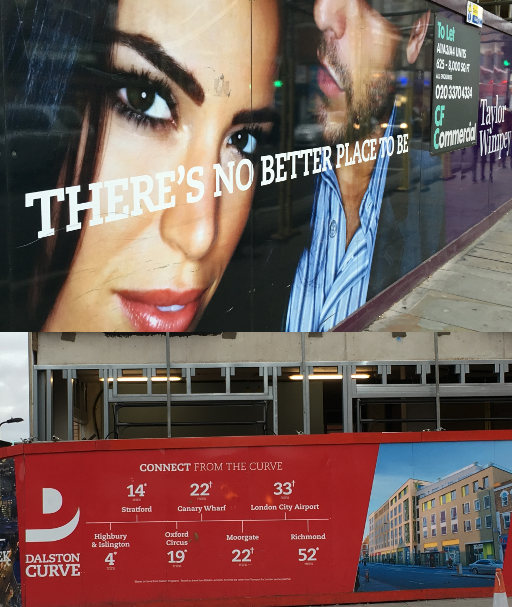 These flat developments are being sold to buy-to-let investors in Singapore, with soaring rents and the lack of affordable flats for the poors as selling points.
In a sense, it was inevitable. With the centre of London being bought out by sheikhs and oligarchs, the merely ordinary rich move further out. Elsewhere, the super-rich are knocking down the Arts & Crafts mansions of liberal Highgate and replacing them with tacky palaces behind security gates, changing the character of the area to another enclave of paranoid global wealth. Dalston, the former no-go zone, now home of indie buzz bands, concept bars and greasy late-night kebabs, has caught the eye of the Canary Wharf financial alpha-males, and any semblance of life is likely to be squeezed out of it over the next decade, the grease shops becoming upmarket chain bistros and gallery spaces luxury car showrooms. (In their valedictory message, Power Lunches recommended that patrons cross the Thames and go to a members-only art space in Peckham.) The eventual outcome looks to be the centre becoming wealthy and inert, a sort of Zurich-on-Thames, with a number of fragmentary subscenes existing on the periphery, perhaps in Walthamstow, Watford, Croydon and such, spaced too far apart for much cross-pollination to occur. And Dalliamsburg will be as distant a memory as Swingin' Carnaby Street, and perhaps just as subject to mythologisation into a hipster Eden.
¶ dalston gentrification hipsters london
2014/12/14
2014/6/24
2014/4/11
2014/2/26
2014/1/15
2013/8/17
2013/7/15
2012/11/3
2012/9/17
2012/2/28
2012/2/12
2012/1/11
2011/12/29
2011/9/29
2011/6/28
2011/3/6
2011/1/3
2010/12/5
2010/11/19
2010/11/16
2010/9/6
2010/7/10
2010/6/26
2010/6/13
2010/5/18
2010/5/10
2010/5/1
2010/4/24
2010/4/13
2010/2/28
2009/12/11
2009/11/6
2009/8/3
2009/6/11
2009/3/6
2009/1/5
2008/12/5
2008/8/4
2008/6/26
2008/6/17
2008/5/22
2008/5/16
2008/2/14
2008/1/25
2008/1/19
2008/1/17
2007/7/7
2007/3/27
2006/11/25
2006/8/7
2006/7/28
2006/7/20
2006/4/12
2005/12/11
2005/10/24
2005/9/13
2005/8/27
2005/7/17
2005/6/1
2005/3/17
2005/2/20
2005/2/14
2005/1/25
2004/11/20
2004/6/16
2004/6/3
2004/3/26
2004/2/20
2004/1/21
2004/1/20
2003/12/31
2003/11/18
2003/11/5
2003/10/27
2003/10/22
2003/10/13
2003/7/18
2003/5/22
2003/4/15
2003/3/17
2003/1/22
2002/10/8
2002/10/4
2002/9/29
2002/9/25
2002/9/20
2002/7/20
2002/7/2
2002/4/26
2002/4/10
2001/6/6
2001/4/26
2001/4/15