Posts matching tags 'john mccain'
2008/5/14
Things __ People Like + Democrat sympathies = Things younger than Republican Presidential candidate John McCain. Includes entries for things like nylon, Helvetica, The Grapes of Wrath, the Golden Gate Bridge, Kodachrome, both of Barack Obama's parents and various other notably old and cranky politicians.
And, via the Helvetica entry, various designers weigh in on McCain's use of the Optima typeface. The usual things come up (Optima being a bet-hedging typeface, the use of a bold weight outweighing any elitist connotations of the regular weight, Optima's association with the dental profession, and, of course, its resemblance to the inscriptions on the Vietnam War Memorial), but most interesting was type designer Matthew Carter's claim on how Optima McCain's choice of running mates:
I set the possible names in a bold weight of Optima caps and certain things became clear. HUCKABEE looks awkward in Optima, and ROMNEY is afflicted with the same difficult 'EY' combination that has plagued the current vice presidency. Perhaps because Optima is a German typeface, the word SCHWARZENEGGER looks predictably good.
Although it's German, Optima took its inspiration from Quattrocento inscriptional lettering in the cathedrals of Florence and Siena, which may explain why GIULIANI looks so simpatico. In the end, however, my research suggests that the optimal running mate — so long as you don't have to typeset her first name — is RICE.
Is typography destiny?
(via
tyrsalvia) ¶ barack obama history john mccain optima politics typography usa
2008/4/1
In US presidential elections, as in any mass-marketing exercise, typography and design are important.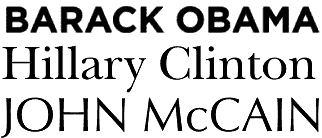 Most go for safely conservative, focus-grouped choices; Hillary Clinton has gone for New Baskerville, a typeface seemingly designed for hardcover self-help books and suburban real-estate agencies' signs. (The latter association may not be the most prudent, with the subprime crisis.) Republican war-hero John McCain has gone for Optima, which, coincidentally or not, is the typeface used on the Vietnam War Memorial in Washington DC. Both typefaces are decades old (and New Baskerville is based on 18th-century English book type), and published by huge type foundries that predate the computer age.
Barack Obama, however, has broken away from the typographical consensus, and gone for a new font named Gotham. Designed by Tobias Frere-Jones starting in 2000 and based on examples of vernacular signage and lettering, Gotham evokes the classic yet forward-looking appearance of 1930s modernism. And the Obama campaign's adoption of it has led some to call it the hot font of 2008:
Though a discussion of fonts may seem obscure, anyone who has agonised over the look of a wedding invitation or sweated over a resume knows that the shape of letters can say nearly as much about a person as the words they spell out. And in the computer age, the message conveyed by a font is no longer subliminal. It's overt.