Posts matching tags 'moscow olympics'
2008/5/19
I recently received in the mail a new EP by a band named Moscow Olympics, and have been listening to it rather a lot (as is evident in my last.fm stats). Anyway, I think this is a cracker of a record, and possibly the début of the year.
I found out about Moscow Olympics' Cut The World via the indie-mp3 blog (though had heard the band mentioned before), and ordered a copy. Soon enough, an envelope arrived bearing Swedish postage stamps and containing a CD, its cardboard case printed with photographs of the interiors of 1980s East German apartments.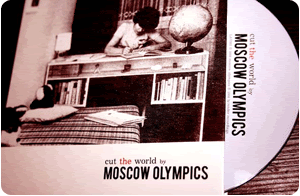 The record itself starts strongly, with gated drums straight out of 1988 and the plaintive ringing of a guitar line; within the first 30 seconds of the first track, What Is Left Unsaid, it is obvious that this is going to be a slice of classic indiepop in the post-C86 vein. Choppy guitar chords, wistful chord progressions, tensely wound rhythms and Hookier-than-thou melodic basslines are reminiscent of the likes of The Bodines, Factory-era Wake or something from Manchester before it became Madchester; just listening to the record, one is transported back to northern England in the 1980s, to visions of row houses snaking their way downhill under the leaden glow of grey skies; views from grotty bedsit windows, the BBC on the telly, and the miners' strike in the headlines. Which is all the more unusual, as the band hail not from Thatcher-era Grey Britain but from Manila, in the Philippines. Yet, obviously, they are driven by a deep love of 1980s British indie-pop, as this record is imbued with its spirit, with all the awkward exuberance that still keeps this genre fresh and relevant.
The next two tracks go on as the record started; in the fourth track, Safe, the vocals, which already were low in the mix and washed with reverb, blossom into full-blown shoegazing à la Slowdive or Secret Shine. Meanwhile, track 6, Ocean Sign, ramps up the New Order influences, with extra-Hooky basslines; it almost sounds like something off Low-life. The finale and title cut starts innocuously, but rises to a crescendo of gloriously delayed guitar, like a brighter, sunnier version of Slowdive's Primal (the closing track from their first album), before exiting gloriously in a tail of shimmering reverb.
I'm tipping this to be one of my records of 2008. Well done, Moscow Olympics.