Posts matching tags 'perugia'
2008/5/28
The mediæval Italian hilltop town of Perugia has inaugurated a new, incongruously futuristic, transport system: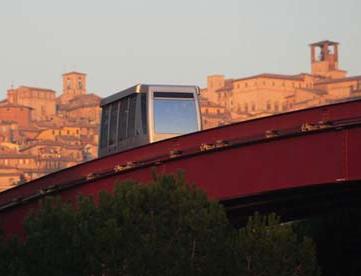 a light railway of pilotless, podlike cars, running from the valley to the centre of the old town:
Dubbed the "Mini Metro", the rail line, which starts from the valley floor, climbs for 3km, wiggles around ancient constructions and monuments, and drops visitors off in the historic centre where an unobstructed view of Assisi and the rolling countryside gleams in the distance. Total travel time? 11 minutes.
At first look, the sight of pilot-less metallic pods shuttling people up and down the hillside on an elevated track seems, to put it mildly, anachronistic. Call it Tron-meets-Dante in the Umbrian hills.
If the Mini Metro is successful, the Perugian municipal authorities plan to ban cars from the old town's narrow streets altogether.
¶ italy perugia public transport railway urban planning