Posts matching tags 'sculpture'
2006/4/9
Banksy is back, and this time has gotten into public sculpture. His most recent work of art has been a brutally murdered red phone box, installed in Soho Square: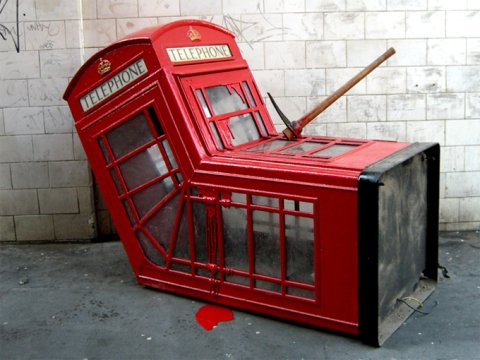 Unfortunately, Westminster City Council don't take kindly to sculptures being installed without planning permission, and, considering it as dumped waste, removed it.
A PR person from British Telecom, however, took a more generous view of the work, and tried to spin it as "a stunning visual comment on BT's transformation from an old-fashioned telecommunications company into a modern communications services provider".
2000/8/1
...and while I'm stealing links from Jim, you should all check out the works of Joseph Cornell, a surrealist artist who made "boxes", constructions of found images and objects. His works inspired many latter artists, such as Dave McKean to name one.