Posts matching tags 'slavoj žižek'
2013/12/16
After it emerged that Thamsanqa Jantjie, the sign language interpreter at Nelson Mandela's memorial ceremony, had actually been making it up and just moving his arms about meaninglessly, Slavoj Žižek (no fan of well-meaning liberalism, to say the least) argues, with supreme cynicism, that his doing so was not so much a fraud as a deeper form of honesty, laying bare the hypocrisy of liberalism:
Now we can see why Jantjie's gesticulations generated such an uncanny effect once it became clear that they were meaningless: what he confronted us with was the truth about sign language translations for the deaf – it doesn't really matter if there are any deaf people among the public who need the translation; the translator is there to make us, who do not understand sign language, feel good.
And was this also not the truth about the whole of the Mandela memorial ceremony? All the crocodile tears of the dignitaries were a self-congratulatory exercise, and Jangtjie translated them into what they effectively were: nonsense. What the world leaders were celebrating was the successful postponement of the true crisis which will explode when poor, black South Africans effectively become a collective political agent. They were the Absent One to whom Jantjie was signalling, and his message was: the dignitaries really don't care about you. Through his fake translation, Jantjie rendered palpable the fake of the entire ceremony
Of course, actual deaf people might not agree with this assessment.
¶ cynicism deafness deception détournement fraud hypocrisy nelson mandela slavoj žižek south africa
2013/3/17
In 2003, US mass-market clothing retailer Abercrombie & Fitch approached Slovenian Marxist philosopher Slavoj Žižek to write some ad copy for them; he took them up on the offer, and the result (NSFW) consists of goldenly sunlit vintage-soft-porn-style photographs of naked good-looking young people, with Žižek's unique brand of macaronic Freudian-Lacanian theorising superimposed over a proportion of the pages, in bold sans-serif face. A representative example of the text: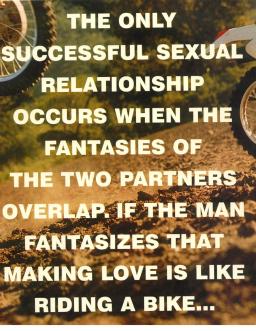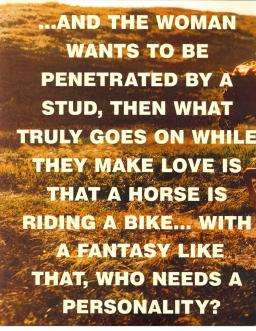 Žižek reportedly said that the assignment took him 10 minutes of free associating, and that he found it less demeaning than the US academic sector:
But Zizek bristled at the suggestion that there was anything unseemly about an internationally renowned intellectual writing copy for a clothing catalog. ''If I were asked to choose between doing things like this to earn money and becoming fully employed as an American academic, kissing [EXPLETIVE] to get a tenured post,'' he growled, ''I would with pleasure choose writing for such journals!''
Which sounds like a Marxist take on the "punk rock" philosophy mentioned in
an earlier post
: if the bourgeois-capitalist system is (a) bullshit and (b) inescapable, and the supposedly "credible" parts of it are the worst by their pretence of being something other than bullshit, why not show the lie of the system by shunning its serious institutions and engaging solely with the most honestly base and tawdry aspects of it: populist cinema and mass-market clothing chains?
2011/1/16
Slavoj Žižek weighs in on WikiLeaks.
In one of the diplomatic cables released by WikiLeaks Putin and Medvedev are compared to Batman and Robin. It's a useful analogy: isn't Julian Assange, WikiLeaks's organiser, a real-life counterpart to the Joker in Christopher Nolan's The Dark Knight? In the film, the district attorney, Harvey Dent, an obsessive vigilante who is corrupted and himself commits murders, is killed by Batman. Batman and his friend police commissioner Gordon realise that the city's morale would suffer if Dent's murders were made public, so plot to preserve his image by holding Batman responsible for the killings. The film's take-home message is that lying is necessary to sustain public morale: only a lie can redeem us.
Consider too the renewed popularity of Leo Strauss: the aspect of his political thought that is so relevant today is his elitist notion of democracy, the idea of the 'necessary lie'. Elites should rule, aware of the actual state of things (the materialist logic of power), and feed the people fables to keep them happy in their blessed ignorance. For Strauss, Socrates was guilty as charged: philosophy is a threat to society. Questioning the gods and the ethos of the city undermines the citizens' loyalty, and thus the basis of normal social life. Yet philosophy is also the highest, the worthiest, of human endeavours. The solution proposed was that philosophers keep their teachings secret, as in fact they did, passing them on by writing 'between the lines'. The true, hidden message contained in the 'great tradition' of philosophy from Plato to Hobbes and Locke is that there are no gods, that morality is merely prejudice, and that society is not grounded in nature.