Posts matching tags 'surreal'
2010/2/16
Sleep Talkin' Man: a log of the bizarre, surreal and often obscenity-filled utterances of a man afflicted with the condition of sleep talking, as transcribed (and sometimes recorded and posted online) by his wife:
"Don't move a muscle. Bushbabies are everywhere... everywhere... Shoot the fucking big-eyed wanky shite fucks! Kick 'em. Stamp them. Poke 'em in their big eyes! Take that for scaring the crap out of me."
"My badger's gonna unleash hell on your ass. Badgertastic!"
"It's a good thing your breath smells of shit. It colors your words beautifully. Gives it an edge."
"Tea bags, see? Better be careful with the tea bags. They're delicate creatures. Handle them with care."
(via Boing Boing) ¶ amusing bizarre psychology sleep sleep disorders surreal
2008/1/28
Some eerie and surreal photos from Kolmanskop, a ghost town in Namibia, built during the diamond boom, abandoned by the 1950s, and since abandoned to the rising dunes: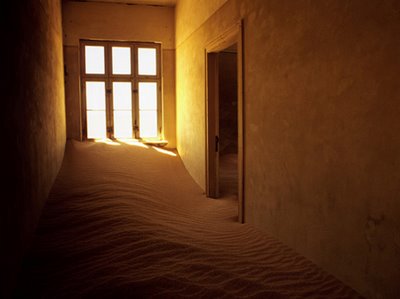 Shortly after the drop in diamond sales after the First World War and the discovery of richer deposits further south at Oranjemund, the beginning of the end started. So within 40 years the town was born, flourished and then died. One day Kolmanskop's sand-clearing squad failed to turn up, the ice-man stayed away, the school bell rang no more. During the 1950's the town was deserted and the dunes began to reclaim what was always theirs.
A couple of old buildings are still standing and some interiors like the theatre is still in very good condition, but the rest are crumbling ruins demolished from grandeur to ghost houses. One can explore the whole area within the fences and it creates the perfect set up for good photographic opportunities.
(via Boing Boing) ¶ 0
2005/4/26
Veteran underground comic author Howard Cruse reminiscent about the old childhood pastime of raising nancies:

And there are more comics on his site, including one which asks the question of "Why Are We Losing The War On Art?".