Posts matching tags 'tgv'
2008/3/10
Two years ago, I caught a sleeper train from Paris to Zurich. Not intentionally, mind you, but entirely by chance.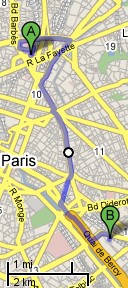 I had originally intended to travel from Paris to Florence by sleeper train, departing from the Gare de Bercy a whisker after 7pm, and to this effect, had booked a seat on the Eurostar arriving at the Gare du Nord just before 5:30pm. This, in theory, would have given me ample time to make my leisurely way through the Paris Métro, possibly grabbing a bite to eat, before boarding my train. In reality, it turned out that the Channel Tunnel wasn't feeling well that afternoon, and the Eurostar spent some 80 minutes waiting in the Kentish countryside, consequently arriving in Paris just before 7. A mad dash in a taxi with a driver who spoke no English ("Parlez-vous Anglais?", I enquired on entering the cab; the driver reply, buttered with no small amount of self-satisfaction, was, "Parle Français.") resulted in my arriving at Gare de Bercy (a good 5km away) some ten minutes after the Florence train's departure.
Facing the prospect of spending a night in a hotel room, I inquired at the ticket office about subsequent trains. Luckily, there was a sleeper train to Zurich (or, more precisely, to Chur via Zurich), and thence I could catch a train to Milan the following morning, putting me on the way toward Florence, at the cost of only around £90 and some eight hours of time.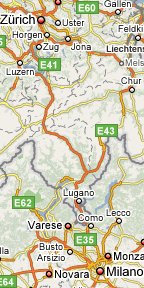 This, however, turned out to be well worth it, as the scenery along the Zurich-Milan route was spectacular. The morning's train wound past silvery alpine lakes fringed with small, white houses and corkscrewed its way up mountains to St. Gotthard's Pass, before entering a tunnel. On the other side, everything was different: the climate, the architecture, even the language. We had left the German-speaking part of Switzerland and entered the Italian-speaking part, a somewhat sunnier, though still impeccably well-organised, place. The train headed south, then stopped for some time at the border as border guards boarded to check our passports. Then it proceeded southward, past Lake Como, and towards Milan. From Milan, I made my own way south.
I had been planning to take this journey again at some point, the next time actually breaking it in the Swiss Alps; getting off the train somewhere around, say, Arth-Goldau or so, and spending a day or two there, in alpine tranquility. Though, when I recently looked at seat61.com, I found that that is no longer possible, having fallen victim to the onward march of progress:
The convenient direct sleeper train from Paris to Landquart & Chur was sadly withdrawn with the opening of the TGV-Est high-speed line in June 2007
I wonder how many other sleeper train services have disappeared over recent years, squeezed by the boorish onslaught of cheap flights on one hand and the march of high-speed rail on the other, and whether this is a one-way process, or whether there are any new overnight services being introduced as old ones are dropped. One would think that they could run some through the Channel Tunnel at night. (Perhaps if Deutsche Bahn get rights to run services through the tunnel from 2010, as they have applied to do, they will put some in. After all, Germany is considerably further from London than Paris or Brussels, and an overnight train from London to Berlin, the showpiece rail hub of central Europe, could be popular. And then there were the overnight services from the north of Britain to Paris that were mooted when the tunnel was being built and flights were relatively expensive.)
2006/9/20
25 years ago this Friday, France opened its first TGV train line, from Paris and Lyons. The arrival of the high-speed train lines (which now run at up to 320km/h, nearly twice as fast as the fastest train in Britain) has profoundly changed the psychogeography of France, effectively shrinking the country to a more conveniently traversable size:
The 1,250-mile (2,010km) TGV network, a product of the French tradition of centralised power and state engineering, has transformed life, bringing cities such as Tours, 230 miles from Paris, within commuting range. A daily season ticket on that TGV route costs £390 a month. Between Paris and Lille (127 miles each way), daily commuting costs £415 a month. Vendôme, 260 miles to the southwest of the capital, has become a dormitory town. About 400,000 people use the TGV for daily work.
"The TGV is the Concorde plus commercial success," Clive Lamming, a railway historian who wrote the Larousse des trains et des chemins de fer encyclopaedia, told The Times. "The TGV has virtually reduced France to one big suburb. This has increased the independence of businesses from Paris. Workers are more mobile and their costs are less."
To commemorate the 25th anniversary of the Paris-Lyons TGV line, the SNCF (France's state railway company) is opening the new TGV-Est line from Paris to Strasbourg, which will make the journey in 2 hours and 20 minutes (it is presently 4 hours).
It is unlikely that anything like the TGV will happen in Britain. The technical efficiency of the TGV is a result of the sort of overengineering that happens in systems shielded from the ruthless optimisations of the marketplace. In Britain, however, where the railways are privatised and the maximisation of profits and cutting of expenses is paramount, the system would never be so uneconomical as to invest in dedicated high-speed railway lines which inefficiently lie idle when not being traversed by high-speed trains, rather than being used for goods and short-distance traffic. And then, of course, there is the proud Anglo-Saxon tradition of underinvestment in infrastructure to uphold.