Posts matching tags 'welsh'
2008/11/1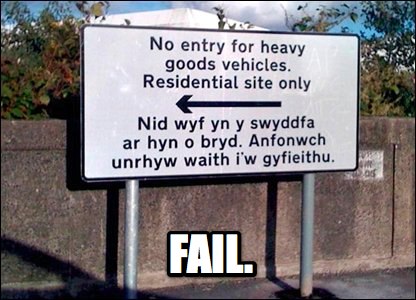 Recently, Swansea council in Wales needed to erect a road sign warning advising lorry drivers to avoid a residential area. Being in Wales, the sign would have needed to be bilingual, so the council emailed a translation service to get a Welsh translation of the text, and upon receiving the reply, promptly printed it on a sign and put it up. Only after the sign had gone up did people point out that the text was an out-of-office auto-reply:
All official road signs in Wales are bilingual, so the local authority e-mailed its in-house translation service for the Welsh version of: "No entry for heavy goods vehicles. Residential site only".
Unfortunately, the e-mail response to Swansea council said in Welsh: "I am not in the office at the moment. Please send any work to be translated".
Which leaves a few questions unanswered: are there really so few Welsh speakers in Swansea that the council couldn't find one on staff to run the sign past? And surely a translation service would have made their out-of-office messages bilingual.
2005/8/30
2003/2/14
2003/1/22