The Null Device
Réseaux sociaux: des audiences différentes selon les continents
French broadsheet
Le Monde
has published
a map of the popularity of various social network sites across the world
.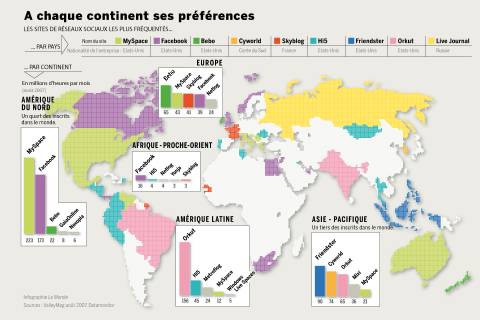 This map reveals that MySpace dominates in the USA and Australia, whereas the UK, Canada and Norway prefer Facebook. Which brings to mind the
statistics about average IQs of countries
, which place the UK's average at 100 and the US and Australia's at 98.
Interestingly enough, the chart lists LiveJournal as a Russian website, despite the fact that it began in, and operates out of, the US, though Russia has been a significant market for it and is now owned by a Russian concern.
There are 3 comments on "Réseaux sociaux: des audiences différentes selon les continents":
Please keep comments on topic and to the point. Inappropriate comments may be deleted.
Note that markup is stripped from comments; URLs will be automatically converted into links.