The Null Device
2002/11/3
It looks like Cos has been doing a good job of maintaining Upcoming Events in my absence; judging by it, there are quite a few good gigs I'm missing out on being here in the UK. I wouldn't mind having seen the Sleepy Jackson gig, if only because of the supports (New Buffalo and Architecture in Helsinki all on one bill). I'll be back in time for the Essendon Airport gig, and/or the Architecture album launch.
All this evening, fireworks have been going off all around (well, all around Ealing and thereabouts, anyway). It seems that, this being the weekend between Halloween and Guy Fawkes' Day, it's a doubly good reason for fireworks.
Some of these look like organised displays, but others probably aren't. Unlike in Australia, anyone can buy fireworks here and set them off, which is why you get bottle rockets whizzing horizontally across parks and almost knocking people over and such; and apparently the casualty departments of hospitals are doing a roaring trade as well.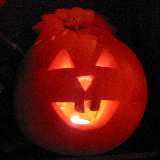 One thing that I found slightly surprising: the English really get into Halloween (which I thought was an American thing, at least in its modern incarnation). There were carved pumpkins everywhere, and I saw a number of people dressed up for the occasion. (And not just little children in pumpkin suits either; there was one woman walking down Oxford St., attired in green face paint and a witch's hat. Not the sort of thing you see in Australia much.)
I've been a bit quiet lately, because I've been too busy wandering around London to blog. I spent yesterday wandering around and doing some shopping. (It appears that Ben Sherman shirts are actually cheaper in Melbourne than here, as I found to my dismay; though at least here you can find a good range of Radiohead/W.A.S.T.E. T-shirts in shops.)
Today, however, I spent much of the day wandering around the Victoria & Albert Museum. It really is a fantastic place; it has huge warrens of rooms full of all sorts of objects and artefacts; from the personal effects of 16th-century people to machines made in the Renaissance (some of which look surprisingly modern), to designer plastic radios from the 1970s to huge statues, along with insights into the worlds from which these artefacts came.
Luckily the weather is looking up somewhat, as from tomorrow I'll be travelling around a bit.