The Null Device
2003/4/20
And a happy Easter to everyone.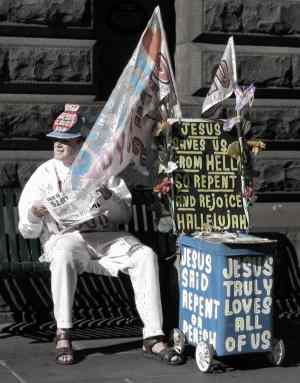 After regime change in Afghanistan, Iraq and Syria, it was only a matter of time before Blair and Bush turned their attention to France. The detested Jacques Chirac, a past friend of Saddam Hussein, refused to disband his force de frappe weapons of mass destruction; the coalition acted in preemptive self-defence; though it was a pity about the Louvre.
The toppling of the Chirac regime was the inevitable application of this ideology. It was not imperialism. Washington had no desire to stick around when the cameras had already been directed to a new rogue. It was rather adventurism. American foreign policy did mergers and acquisitions, not management. They could topple but, as they found in Kabul and Baghdad, they had no clue about rebuilding. They just wanted to make a point. Upset Uncle Sam and you will lose your power, your palace, your art treasures and bring death and destruction to your cities.
Tony Blair cheered the fall of France. He, too, had his reasons. He had longed to see M Chirac with a bloody nose. Since 2002 he had supported Americas new coercive diplomacy and grown hugely popular as a result. Not since Palmerston had nations quaked when a British leader said he had no plans to attack them. Now Mr Blair might be Americas chosen candidate for president of Europe. Anyway, Britain was in bed with America and could hardly climb out now. Washington would not like that. Mr Blair would not want a nasty hole at the end of The Mall, would he?
(via FmH)
This evening, I went to see Otis Lee Crenshaw (aka Rich Hall's white-trash country singer persona). I saw him a few years ago, and enjoyed his show then; this one was just as good. This time he was supported musically by two members of some outfit called The Gadflys, including Phil "The Great Muldavio" Moriarty who's also in the Black Sea Gentlemen. Anyway, the routine was quite amusing, with Crenshaw performing a number of songs, improvising with the audience (this show's version of Big Joe was about a printing worker named Winston) and cantankerously ranting about his romantic life, Texas and the poor state of country music today:
What the fuck is wrong with country music? Jesus Christ, the biggest selling song is Toby Keith... You look at one of them fuckers like Garth Brooks with his 14-acre field of felt around his head... he's about as country as a fuckin' bag of wet mice. This man with his bullshit country metaphors, he's 4 foot 3 with friends in low places, yes I believe you do you fucking midget, you're in a low place you prick. "The road is like a woman sometimes..."; what the fuck is that? Who needs to hear that, what is he saying? She's been laid over six or seven counties?... Shania Twain, "that don't impress me much". First of all you're Canadian. Anything would impress you and you know it... Look at Patsy Cline, now that was true country music. Every song she sang was about psychotic breakdowns.