The Null Device
2008/2/28
Don't want your ideas and creative work to be locked up for 90 years after you die? You could always put one of these stickers on your driver's licence (as is, apparently, the done thing for organ donations in the US).

Not sure how legally binding they would be (the most likely answer is "not very"). If you really want your scrapbooks of poetry and Garageband recordings to go to the public domain, you'd probably be better off writing a will. Or you could consider releasing them under a Creative Commons licence while you're still alive.
(via Gizmodo) ¶ copyfight intellectual property law public domain usa
French broadsheet Le Monde has published a map of the popularity of various social network sites across the world.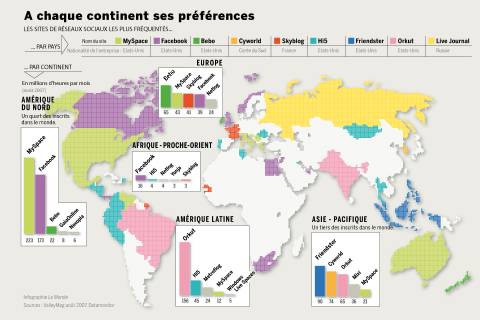 This map reveals that MySpace dominates in the USA and Australia, whereas the UK, Canada and Norway prefer Facebook. Which brings to mind the statistics about average IQs of countries, which place the UK's average at 100 and the US and Australia's at 98.
Interestingly enough, the chart lists LiveJournal as a Russian website, despite the fact that it began in, and operates out of, the US, though Russia has been a significant market for it and is now owned by a Russian concern.