The Null Device
2008/12/17
Good news for British traditionalists today; the EU has abandoned its effort to make Britain go metric. Britain had been given an exemption from the requirement to standardise on metric measurements in 1995, though this was due to expire this year, with miles and pints to be banished from view. Though, with a fierce display of tutting, the Daily Mail-reading little-Englanders gave Johnny Foreigner what for, and he fled with his tail between his legs, leaving Britain to its ancient systems of measurement in perpetuity.
Those aghast at the surrender of modernity to tradition for its own sake, though, need not despair; the law still requires metric measurements to be displayed alongside the traditional ones, and the traditional measurements are defined in terms of the metric ones (a pint, for example, is legally set at 568ml; cursory inspection of a pint glass at any pub will demonstrate this).
Another British tradition, however, was not so lucky; the EU has voted to abolish Britain's right to opt out of the EU's maximum working-hour limits. The Tories, employer groups and the New Labour nomenklatura are, of course, outraged (though the Labour rank and file are, by all accounts, quite pleased), predicting a collapse of productivity and the surrender of the Calvinist work ethic that made Britain great. However, given that the maximum EU working limits prescribe a 48-hour week, averaged over some nine weeks, this doesn't hold water, unless one is running a Dickensian sweatshop.
Finally, the pound's value has recently plummeted, to the point where a pound is rapidly approaching one euro. Which has caused some commentators to suggest that maybe Britain joining the euro is not such a bad idea. Which may be the case; certainly, the traditionalist argument for retaining the pound doesn't hold much water, given that the modern decimal pound is a dollar/euro-style decimal currency which replaced the ancient pound in 1971; the difference between it and, say, the Australian dollar (another currency hewn from pounds, shillings and pence at about the same time) is that Britain decided to name its new currency after the old one. Britain joining the euro would make things easier for those travelling to/from or trading with continental Europe (or, indeed, Ireland). The question which has most bearing on the pros and cons of the euro is whether Britain's monetary policy being fixed to the Eurozone would help or harm the British economy; this is a question I'm not qualified to answer.
¶ anglocapitalism currency economics eu euro europe metric uk work
A study at Edinburgh's Heriot Watt University has claimed that watching romantic comedies can damage relationships, by inculcating unrealistic expectations:
They found fans of films such as Runaway Bride and Notting Hill often fail to communicate with their partner. Many held the view if someone is meant to be with you, then they should know what you want without you telling them.
Kimberly Johnson, who also worked on the study, said: "Films do capture the excitement of new relationships but they also wrongly suggest that trust and committed love exist from the moment people meet, whereas these are qualities that normally take years to develop."
The first previews of Keita Takahashi's new game, Noby Noby Boy, have come in, and it's an odd one:
It's a hard game to explain without sounding silly. Picture a physics playground. You control a pink worm with feet named BOY, and move, eat objects to stretch your stomach, jump to any height you choose, and stretch lengthwise by pulling yourself in opposite directions, without any specific objectives. Then after you stretch BOY for a while, you can "report" how many meters you stretched to GIRL, causing her to stretch as well. But while BOY is a reasonably-sized character with an elastic torso, GIRL is a giant who starts life in Earth's orbit in space, and as everyone playing on PlayStation Network cumulatively reports stretching scores, GIRL grows bit by bit, eventually stretching herself from Earth to The Moon, Mars, Jupiter, etc. (and in the process unlocking these settings for all players).
As the game describes itself: "Noby Noby Boy is all about stretching a character called BOY. There are no missions or enemies... You don't collect objects by rolling a ball... This game doesn't have any of that stuff. In this game, you stretch and shrink... stretch and eat objects... That's all there is to it."
This isn't a game that tells you everything about itself up front. It gives you a short quiz and then lets you loose. If you want to trip the guy riding his bicycle, or make BOY super long and thread him through buildings or the donut-shaped clouds in the sky, that's up to you. I've had fun seeing how large I could stretch (current record is just over 500 meters) and trying to tie myself into a knot. I've eaten my way through the epilepsy warning, spotted cameos from Mappy and the Prince from Katamari, written messages on the side of BOY, befriended characters so they surf on my back, and recorded video clips (the game has an option so you can send them to YouTube).
And several images from the game have surfaced; it looks quite good, in a somewhat kawaii-yet-abstract sort of way: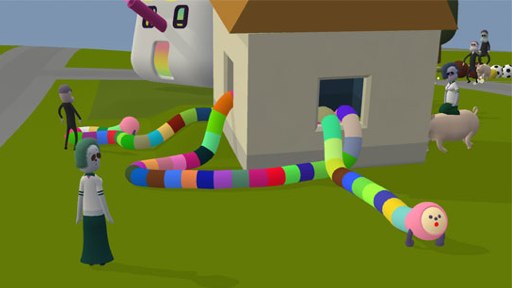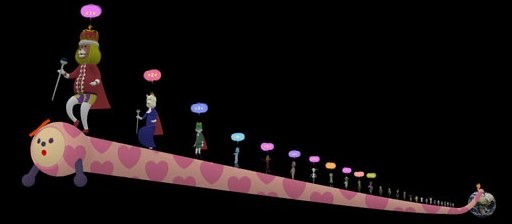 Noby Noby Boy will apparently be available as a download for the PlayStation 3 console, and will be priced at a "very reasonable" price, to ensure that players expecting Katamari Damacy VII: The Revenge or something don't feel cheated. This and Little Big Planet could be reasons to buy a PS3; it's reassuring to see that they're not just using its power to make more realistic-looking racing/war/sports/zombie-splattering games.
The ever-eccentric Takahashi, meanwhile, has apparently committed himself to designing a new children's playground in Nottingham.