Posts matching tags 'disney'
2012/5/29
In what could be one of the most unfortunate printing errors in recent history: the publisher of the German edition of Donald Duck comics has had to recall a recent issue after one of the speech bubbles seemingly used the word "Holocaust" as a term of congratulation. Oops!
In the episode titled "Where is the Smoke?" a dignitary honors a team of firefighters, with the German words, in the bubble above his beak, boasting of the "awards to our brave and always alert fire lookouts! Holocaust!"
The word "Holocaust" in the text was not the work of a mischievous translator, but rather part of the English-language text which, by mistake, had not been erased. (The question of how that one particular word escaped deletion in the artwork sent to the German publishers has not been answered. One does wonder whether or not it was a prank by some low-ranking staffer at Disney Corp; if so, it might not be the first
Nazi-themed prank by a Disney insider
.)
2009/11/9
The latest character to get a darker, edgier makeover: Mickey Mouse. Yes, the antiseptically squeaky-clean mascot of one of the largest family-entertainment corporations is being brought back to his original roots as a sadistic prankster, mostly because today's kids find him too much like a personification of benign authority to actually, you know, identify with:
Mickey was a bit of a wild child himself, when he made his first appearance, in 1928, in that changeover period when silent movies were being superseded by the "talkies". He played practical jokes, he pursued his girlfriend Minnie aggressively, and in Steamboat Willie, he vented his anger on an undeserving parrot.
But in the anxious 1930s, when American was threatened by recession and political radicalism, the highly conservative, communist-hating Walt Disney toned down Mickey's behaviour and created the bland, all-American mouse kid that he has been ever since.
The new, grittier Mickey makes a début in a Nintendo Wii game set in a "cartoon wasteland" occupied by forgotten Disney characters.
I wonder if it'll work any better than Warner Bros. attempt to give their Looney Tunes characters a gangsta hip-hop makeover in the 1990s.
2008/5/17
The Untold History of Toontown's SpeedChat, or an account of what happened when some pioneering virtual-community software developers accepted a commission from Disney to build an online community site—one compliant with Disney's values, so that "there could be no swearing, no sex, no innuendo, and nothing that would allow one child (or adult pretending to be a child) to upset another ... No kid will be harassed, even if they don't know they are being harassed.".
"We spent several weeks building a UI that used pop-downs to construct sentences, and only had completely harmless words - the standard parts of grammar and safe nouns like cars, animals, and objects in the world."

"We thought it was the perfect solution, until we set our first 14-year old boy down in front of it. Within minutes he'd created the following sentence:

I want to stick my long-necked Giraffe up your fluffy white bunny.
They added a method to allow direct chat between users that involves the exchange of secret codes that are generated for each user (with parental permission). The idea is that kids would print them out and give them to each other on the playground. This was a great way for Disney to end-run the standard - since Speed Chat was an effective method of preventing the exchange of these codes, and theoretically the codes had to be given "in-person", making the recipient not-a-stranger. Sure, some folks post them on message boards, but presumably those are folks who 1) are adults, or 2) know each other, right? In any case, as long as no one could pass secret codes within Toontown itself, Disney feels safe.
The author, Randall Farmer, coined from this the SpeedChat Corollary: "By hook, or by crook, customers will always find a way to connect with each other."
2006/12/6
2005/6/30
2004/12/12
Under a new deal between Disney Corp. and China's Communist Youth League, millions of Chinese children will now be indoctrinated into the teachings of Mickey Mouse. Or, more precisely, will learn Disney stories instead of Chairman Mao's Little Red Book.
2004/5/7
The clown prince of the American Left, Michael Moore, claimed a few days ago that Disney killed the distribution of his most recent film, Fahrenheit 911, to preserve tax breaks in Florida; a classic case of corruption, cronyism and corporate power suppressing free speech. Or it would be, if it wasn't an outright publicity stunt. Moore, it seems, knew all along that Disney had no intention of distributing his film, though found it more advantageous to strategically misrepresent the situation as Disney doing the Bush Junta's dirty work. The existence of the alleged tax breaks is also up for some debate. Then again, as Mel Gibson discovered, there's no such thing as bad publicity.
2004/4/19
What shall it profit a rodent if he shall gain the pop-cultural world but lose his soul? One could ask that question of Mickey Mouse; since his debut in 1928, the ubiquitous rodent has gone from being a mischievous, somewhat sadistic cartoon prankster (in the classic slapstick style of the medium) to the corporate identity of an intellectual-property behemoth and, arguably, a symbol of McWorld itself. Of course, as this happened, the once lively character lost his own story and personality and became, at best, as bland and anaemic as any friendly, helpful corporate mascot, and at worst, a symbol of heavy-handed corporate hegemony over culture:
"If I was looking for the crossover point where Mickey's story morphed into the Disney story, it was `The Sorcerer's Apprentice,' " said Mr. Hardison, referring to the Mickey segment of Disney's 1940 classic, "Fantasia," in which the mouse, as an aspiring magician, attempts to harness his master's tricks. "That's where he cemented his place as the source of Disney magic. Magic is such an important characteristic of Disney, but it wasn't an important characteristic of Mickey. Once he becomes magical, he is no longer the everyman underdog. He went from being the little guy against the world to a symbol of what Disney does."
And so a logo was born. A brilliant one, at that: any close approximation of the two black ear-disks is enough to say "Disney" anywhere in the world. "For the sheer power of the graphics," the sculptor Ernest Trova once said, "Mickey Mouse is rivaled only by the Coca-Cola trademark and the swastika." By making itself inseparable from its beloved mascot, Disney made it impossible to see Mickey and not think of the company that backs him -- one whose public profile is a lot more controversial than that of your average stuffed animal.
(via bOING bOING, of course)
2003/12/31
I was on Brunswick St. today and saw, on the side of a shop, a Mickey Mouse comic, including Disney signature and copyright message, rendered as aerosol art: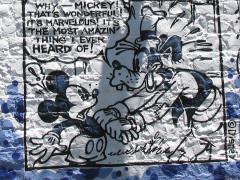 This could mean one of two things: either Disney are now adding their brand to the family entertainment experience that is Brunswick St., or it's not actually authorised by Disney, but rather is some form of détournement or "subversive" post-Warholean art project or something (possibly even a commentary on the sanitisation and commercialisation of Brunswick St.?).
2003/2/14
Just the thing to wear for when Osama comes to take out the mall: Mickey Mouse gas masks. Originally designed for children during World War 2, perhaps we can expect them to return to shops in a few terrorist alerts' time. Though perhaps this day we'd be more likely to see Hello Kitty or Jar-Jar Binks gas masks. (via bOING bOING)