2019/9/10
Another Apple Event™, this time the annual iPhone/iPad one. And out comes Tim Cook, announcing that they're foregoing the traditional feel-good videos and plunging right in, as today's event will be "truly big"; followed by an hour and a half of mostly incremental improvements. Oh, and a pay-TV platform that looks like an Onionesque parody of the Netflix/HBO/Amazon high-concept event-serial genre.
The good news is that it won't have a huge impact on one's credit card, as there are no must-haves. Everything's slightly nicer, and the top-end iPhone takes better pictures than any other iPhone, though nothing's compelling. (Apple themselves quoted a report from last year saying that the A12 processor in the iPhone XS will be ahead of Android devices for two years, which means that my XS still has one year of non-obsolescence left.)
For what it's worth, three things I would have liked to have seen announced at an Apple device event:
The ability to use the NFC transceiver in the Apple Watch (and iPhone) for arbitrary non-payment-card applications; allowing things like putting public transport cards, library cards, locker keys and such on one's watch. The convenience of being able to board buses or enter/exit Tube stations without getting my wallet out is one thing I miss about London (which achieves this by tapping into the payment-card network with its system). (IIRC, Apple have said that they keep the NFC chip under tight control because of security considerations. Perhaps an acceptable compromise would be for Apple to closely vet all applications with NFC entitlements, with their security engineers going through the NFC-adjacent code with a fine-toothed comb, as they do some other apps with elevated security permissions. This would be fine; after all, it's not like every developer and their dog would be putting this functionality into their apps.)
An iPhone with the capabilities equivalent to the iPhone XS or similar (decent cameras, reasonable battery life, at least 256Gb storage maximum), but in an iPhone 5-sized form factor. Being able to use a phone one-handed without precariously crowd-surfing it on one's fingertips to reach the top of the screen would be nice. If they made it thicker to accommodate the battery and Flash storage, that would not be a problem either; besides, IMHO, the bevelled edge of the iPhone 4 and 5 did look more stylish than the generic roundedness of the iPhone 6 and subsequent models.
In terms of pro photographic products: an iOS (or iPad OS) device with a decent-sized sensor (at least Micro ⁴⁄₃, if not full-frame), with a decent optical zoom lens that's f/1.8 or better, or, even better, an interchangeable lens mount; thus giving you the advantages of a full-sized sensor and lens (and the laws of physics say that, however good phone-sized sensors get, they'll always be handicapped by their size) with Apple's computational photography and the iOS photographic app ecosystem. Of course, it will probably be a cold day in Hell before Apple put something like this out; it may be more likely that several incumbent camera manufacturers like Canon and Nikon, mindful of phones biting into their market share, get together to launch a computational-photography application platform, complete with interchangeable APIs and app stores, allowing photographic app developers to get their apps running on real cameras. Or maybe not.
So, not the most exciting Apple Event, by all accounts; credit cards are staying firmly in wallets, as the last year's devices prove to be good enough, which will undoubtedly bring out the pundits decrying Apple having lost their way and stopped innovating; at best, they're coasting on inertia from the Jobs years, their lucrative App Store monopoly and iMessage blue-bubble lock-in, and at worst, it's time to dump your AAPL shares while they're still worth something. Which, as humdrum as today's spec-bump update was, is not entirely true. Apple are pushing out some dramatic innovations this year, though they're mostly at the technical level, and were discussed in this year's WWDC. (For one, the user interface framework used for developing iOS apps, which dates back to the iPhone 1.0 and stands on the 1980s Smalltalk-inspired foundations of NeXTSTEP, is being replaced by a set of new, declarative framework named SwiftUI and Combine, which takes extensively from the functional-reactive programming world; these framework will be unified across all Apple platforms, including macOS and WatchOS, allowing apps' codebases to not only be simpler but shared across platforms which would have been too different until now. This, however, is harder to convey in a device event than a 3-camera bump or a new colour option of "Midnight Green".)
2019/5/18
In other news, today was the Australian federal election, and another Labor landslide that dissolved into thin air upon contact with reality, with a terminally unpopular conservative government romping home to a resounding victory. You can almost set your clock by them.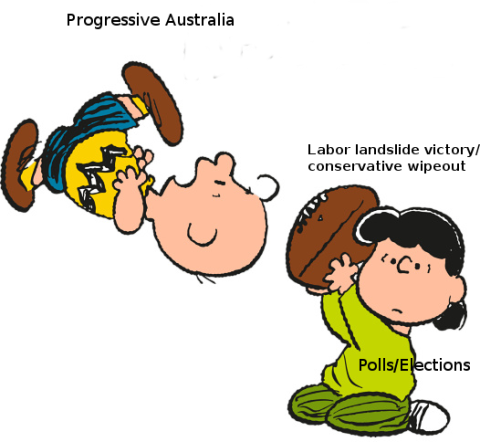 One can ask a lot of questions, and a lot of questions will be asked: were Labor too radical, alienating the Silent-Majority-Of-Suburban-Battlers who love their big cars and cheap coal-fired electricity and can't stand lefty ratbags from the inner city telling them how to live their life, or too timid, not giving Australian voters a Whitlam-scale vision of change to get behind? Was Labor leader Bill Shorten a terminal black hole of charisma? Did the traditionally left-leaning Fairfax papers' new ownership shift the balance? Did the conservatives cross the line by doing a preference deal with out-and-proud racists, or have they always been where they are? Was there ever a time when the quiet part was not said out loud? And so on.
One question that should be asked though is: why is it that, in Australian federal politics, the ALP is constantly poised for a barnstorming victory, except on the actual electoral night when it collapses like a sandcastle? At this stage, the pollsters, pundits, commentators and betting markets have successfully predicted the last four out of one ALP federal election victories. Is this just the "shy-Tory" phenomenon, of everybody wanting to pose as a high-minded altruist whilst keeping their tax bill down and their negative gearing profits coming in? Is it something more culturally specific, perhaps the larrikin/wowser dynamic at the heart of the Australian psyche, an innate blokey conservatism coupled with a desire to watch their betters ritually sweat and squirm in the face of potential defeat? Are elections, and the Labor Party, little more than a sort of ritual psychodrama, a festival in which the King is put on trial by the court jester and everybody gets to let off a bit of steam before getting down to the next three years of no-nonsense conservative governance? (Repeat until climate change obliterates all life on Earth, unless of course climate change is Marxist propaganda.)
2019/5/16
In two days' time, things will once again come to a head. I am, of course, talking about the Eurovision final. Unfortunately, I will not be able to view it live due to prior commitments, so I took the liberty of watching what I could of the semifinals (I am living in a country where Eurovision is taken about as seriously as football is in Australia, and the broadcasts don't begin and end on the final night) and artist videos; here are my impressions.
The talk of this year's contest is, of course, Iceland's Hatari. They dress like BDSM gimps, all muscle, latex and spikes, and sound like something Wax Trax put out around 1990. Their name means The Haters and their song is about the triumph of hate over all (in Icelandic). They hail from Iceland, but they also hail from a parallel universe where MDMA was never discovered and psytrance never displaced hard EBM from the goth clubs. They also are provocateurs—they're essentially Laibach on goofballs—and went to Tel Aviv partly if not wholly to expound at every opportunity about what rotters their hosts are to the Palestinians; apparently the EBU have warned them numerous times and are at the end of their tether, so it remains to be seen who, if anyone, blinks. If they stay in, they could well end up taking the prize. See you at Harpa in 2020?
Another contender with a solid chance is Australia's Kate Miller-Heidke, whose act is equal parts Kate Bush, Frozen and the stunt sequences from Mad Max: Fury Road; she also has a really good voice, and may be the one to win it for Australia.
There were a number of other noteworthy entrants. Norway's starts as trancy club-pop, but then a bald guy appears and intones some words in a baritone, and we're in the realm of arctic shamanism, with sweeping auroras and lo-poly reindeer totems. Germany have some deceptively nice-sounding pop with somewhat dark lyrics. Sweden have a soulful ballad erupting into the standard chorus breakdown, with house piano and melismatic backing vocals; the singer also wrote the UK's song, and another Swede is representing Estonia. Denmark brought the hygge with a slightly twee number, sung partly in French. Czechia are represented by Lake Malawi, who are named after a Bon Iver song, though don't sound the least bit woodsy; their entry is jittery, funky electropop with Mondrian-coloured visuals and perhaps a touch of Parklife. Also funky is San Marino, with a slice of electro chanson, delivered by a Turkish artist based in Germany. Meanwhile, both Malta and Switzerland combined reggaeton beats with middle eastern riffs.
A number of notable contenders fell short of the grand final. Georgia brought the weird intensity usually associated with Romania; moonlit mountains, black-clad wraiths in the mist, columns of flame, and a singer with a manbun singing about, at a guess, blood vendettas or something; a song best appreciated with a shot of something that burns the throat. Romania, meanwhile, toned down their characteristic weirdness to 90s-Depeche-Mode levels. Croatia had a chap named Roko, in a white suit, surrounded by digitally projected hellfire and abseiling angels, which makes one wonder whether this is some kind of AI cult propaganda. If he ends up working with Grimes, all bets are off. Ireland's entry was stylishly retro, echoing midcentury American cool. Latvia entered Grand Salvo/Sodastream territory with their double bass, pastoral guitars and brushed drums. And Israel seemed to go for the Conchita Wurst factor with their torch song about transcendence and empowerment, delivered in an operatic voice.
Then there is the UK. What can one say? They're not utterly awful this time; they're not deliberately talking down to Johnny Foreigner and sending in a light entertainment troupe from a provincial Butlin's lest anyone accuse them of taking it seriously. Their entry is a slick, saccharine big-hearted ballad, delivered by an Everylad who looks like he was decanted from a vat at the Ed Sheeran manufacturing plant a few days ago. It grasps with thick fingers at the heartstrings and gives them an unsubtle tug. And, in doing so, it pulls out all stops: the soaring choruses, the backing choirs, the truck driver's gear change, over a heartwarming video telling a story about teenage travails somewhere up north, shot partly in slow motion. There is technical polish, but little finesse; one can tell that, with the audience on the other side of the Channel, Britain has all the rapport of Theresa May proposing a Brexit deal, and hence no better options than to throw a load of sentimental goop over and hope for the best..
I don't think the UK should win on merit, because there are many better songs in the final this year. Though I do think that if everyone in Europe gave Britain douze points, forcing them to host Eurovision in the first year of the Farage/Rees-Mogg administration, that would easily be the most epic troll in the history of the contest. On merit, however, my vote would be with Iceland, or failing that, Australia or Czechia.