2017/7/19
Today I heard the sad news that Simon Holmes, frontman and songwriter of 1990s Australian alternative/indiepop band The Hummingbirds passed away over the weekend.
I met him once, about a decade ago, at his record shop in Sydney. There was a copy of The Hummingbirds' debut album loveBUZZ there,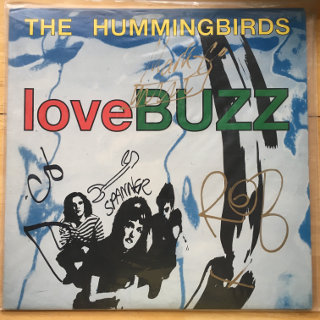 which the band had all autographed back in the day, and which I ended up buying. Simon demonstrated his signature on a piece of paper to show that it was genuine; with his characteristic humility, he didn't know how much to ask for it. I think I gave him $30. We also talked briefly about Sarah Records. I got the impression that, as well as being a fine songwriter and musician, he was also a genuine, decent fellow, of considerable thoughtfulness and sensitivity.
A few years earlier, not long after I had moved, on a whim, to the northern hemisphere, I was catching a sleeper train from Paris to Zurich. I remember listening to the Hummingbirds MP3s which I had on my MP3 player, sometime around midnight, somewhere near the French-Swiss border, and feeling a little less disconnected from the home I had left behind.
And some years later, I heard that The Hummingbirds were reuniting to play a one-off show at Big Day Out in Sydney. I had been thinking of visiting Australia again, and brought forward my visit, timing it to catch them. They were well worth the airfare and the jetlag.
And now Simon's suddenly gone, which sucks, and the only Hummingbirds that exist are some Mumford-alikes from Liverpool, which sucks even more.
Simon's friend and sometime collaborator Tim Byron has written a fine memorial to him.
2017/7/17
As the plume of white smoke emerged from the chimneys of Broadcasting House, the BBC announced that the thirteenth Doctor Who will be played by a woman, namely Jodie Whittaker. (Tilda Swinton, presumably, already had her hands full being the new Bowie.)
That sound you hear in the distance is the sad puppies of the "Mens' Rights" movement whining about their childhoods being ruined, irrevocably contaminated with girl cooties. Pity them; first they lost Ghostbusters, and now this. "It's Doctor Who, not Nurse Who!", they rant, and "nobody wants to see a TARDIS full of bras", before adding that feminism is a cancer and the realism of a story about an alien who travels through time in a wooden phone booth and defeats alien villains with a screwdriver would be completely compromised by said alien being played by a woman rather than a man. In any case, it looks like the new Doctor already has an entire legion of Cybermen set against her.
If Whittaker's Doctor has a long run, and possibly is followed by another non-white-male Doctor (Richard Ayoade was mentioned as one candidate), I wonder whether this will create the myth that the old Doctor Who was more of an old-fashioned manly man than he actually was; that before the BBC bowed to Political Correctness and Cultural Marxism, the original, real Doctor Who was a manly man of the first water, a two-fisted, hairy-chested swashbuckler, going mano a mano with the scum of the universe, between swiving wenches (to which his assistants—whom, of course, he was shagging as well—didn't object, as they knew their place), drinking robustly and making off-colour remarks about minorities. Much in the way that William Shatner's Captain Kirk is (inaccurately) remembered as much more of a Don Draperesque lothario than was on the actual shows, Tom Baker's stripy-scarved Doctor may morph in the popular imagination into some kind of hybrid of James Bond, Gene Hunt and Duke Nukem, with a bit of Jeremy Clarkson.