2019/5/18
In other news, today was the Australian federal election, and another Labor landslide that dissolved into thin air upon contact with reality, with a terminally unpopular conservative government romping home to a resounding victory. You can almost set your clock by them.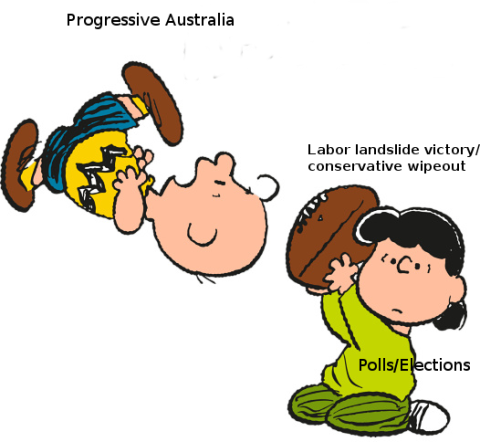 One can ask a lot of questions, and a lot of questions will be asked: were Labor too radical, alienating the Silent-Majority-Of-Suburban-Battlers who love their big cars and cheap coal-fired electricity and can't stand lefty ratbags from the inner city telling them how to live their life, or too timid, not giving Australian voters a Whitlam-scale vision of change to get behind? Was Labor leader Bill Shorten a terminal black hole of charisma? Did the traditionally left-leaning Fairfax papers' new ownership shift the balance? Did the conservatives cross the line by doing a preference deal with out-and-proud racists, or have they always been where they are? Was there ever a time when the quiet part was not said out loud? And so on.
One question that should be asked though is: why is it that, in Australian federal politics, the ALP is constantly poised for a barnstorming victory, except on the actual electoral night when it collapses like a sandcastle? At this stage, the pollsters, pundits, commentators and betting markets have successfully predicted the last four out of one ALP federal election victories. Is this just the "shy-Tory" phenomenon, of everybody wanting to pose as a high-minded altruist whilst keeping their tax bill down and their negative gearing profits coming in? Is it something more culturally specific, perhaps the larrikin/wowser dynamic at the heart of the Australian psyche, an innate blokey conservatism coupled with a desire to watch their betters ritually sweat and squirm in the face of potential defeat? Are elections, and the Labor Party, little more than a sort of ritual psychodrama, a festival in which the King is put on trial by the court jester and everybody gets to let off a bit of steam before getting down to the next three years of no-nonsense conservative governance? (Repeat until climate change obliterates all life on Earth, unless of course climate change is Marxist propaganda.)
2019/5/16
In two days' time, things will once again come to a head. I am, of course, talking about the Eurovision final. Unfortunately, I will not be able to view it live due to prior commitments, so I took the liberty of watching what I could of the semifinals (I am living in a country where Eurovision is taken about as seriously as football is in Australia, and the broadcasts don't begin and end on the final night) and artist videos; here are my impressions.
The talk of this year's contest is, of course, Iceland's Hatari. They dress like BDSM gimps, all muscle, latex and spikes, and sound like something Wax Trax put out around 1990. Their name means The Haters and their song is about the triumph of hate over all (in Icelandic). They hail from Iceland, but they also hail from a parallel universe where MDMA was never discovered and psytrance never displaced hard EBM from the goth clubs. They also are provocateurs—they're essentially Laibach on goofballs—and went to Tel Aviv partly if not wholly to expound at every opportunity about what rotters their hosts are to the Palestinians; apparently the EBU have warned them numerous times and are at the end of their tether, so it remains to be seen who, if anyone, blinks. If they stay in, they could well end up taking the prize. See you at Harpa in 2020?
Another contender with a solid chance is Australia's Kate Miller-Heidke, whose act is equal parts Kate Bush, Frozen and the stunt sequences from Mad Max: Fury Road; she also has a really good voice, and may be the one to win it for Australia.
There were a number of other noteworthy entrants. Norway's starts as trancy club-pop, but then a bald guy appears and intones some words in a baritone, and we're in the realm of arctic shamanism, with sweeping auroras and lo-poly reindeer totems. Germany have some deceptively nice-sounding pop with somewhat dark lyrics. Sweden have a soulful ballad erupting into the standard chorus breakdown, with house piano and melismatic backing vocals; the singer also wrote the UK's song, and another Swede is representing Estonia. Denmark brought the hygge with a slightly twee number, sung partly in French. Czechia are represented by Lake Malawi, who are named after a Bon Iver song, though don't sound the least bit woodsy; their entry is jittery, funky electropop with Mondrian-coloured visuals and perhaps a touch of Parklife. Also funky is San Marino, with a slice of electro chanson, delivered by a Turkish artist based in Germany. Meanwhile, both Malta and Switzerland combined reggaeton beats with middle eastern riffs.
A number of notable contenders fell short of the grand final. Georgia brought the weird intensity usually associated with Romania; moonlit mountains, black-clad wraiths in the mist, columns of flame, and a singer with a manbun singing about, at a guess, blood vendettas or something; a song best appreciated with a shot of something that burns the throat. Romania, meanwhile, toned down their characteristic weirdness to 90s-Depeche-Mode levels. Croatia had a chap named Roko, in a white suit, surrounded by digitally projected hellfire and abseiling angels, which makes one wonder whether this is some kind of AI cult propaganda. If he ends up working with Grimes, all bets are off. Ireland's entry was stylishly retro, echoing midcentury American cool. Latvia entered Grand Salvo/Sodastream territory with their double bass, pastoral guitars and brushed drums. And Israel seemed to go for the Conchita Wurst factor with their torch song about transcendence and empowerment, delivered in an operatic voice.
Then there is the UK. What can one say? They're not utterly awful this time; they're not deliberately talking down to Johnny Foreigner and sending in a light entertainment troupe from a provincial Butlin's lest anyone accuse them of taking it seriously. Their entry is a slick, saccharine big-hearted ballad, delivered by an Everylad who looks like he was decanted from a vat at the Ed Sheeran manufacturing plant a few days ago. It grasps with thick fingers at the heartstrings and gives them an unsubtle tug. And, in doing so, it pulls out all stops: the soaring choruses, the backing choirs, the truck driver's gear change, over a heartwarming video telling a story about teenage travails somewhere up north, shot partly in slow motion. There is technical polish, but little finesse; one can tell that, with the audience on the other side of the Channel, Britain has all the rapport of Theresa May proposing a Brexit deal, and hence no better options than to throw a load of sentimental goop over and hope for the best..
I don't think the UK should win on merit, because there are many better songs in the final this year. Though I do think that if everyone in Europe gave Britain douze points, forcing them to host Eurovision in the first year of the Farage/Rees-Mogg administration, that would easily be the most epic troll in the history of the contest. On merit, however, my vote would be with Iceland, or failing that, Australia or Czechia.
2018/12/31
As 2018 comes to an end, here is once again my list of records of the past year:
With honourable mentions going to: Beach House, 7 (somewhat busier than their previous albums, though with the familiar dreamy haze; Pete "Sonic Boom" Kember was involved in the production), Blood Wine Or Honey, Fear & Celebration (psychedelic Afrobeat/Tropicalia-tinged party grooves from Hong Kong, of all places; sounds in places like NO ZU, only even more lit), Cale Sexton, Melondrama (808 and 303-intensive electronic grooves, with enough atmosphere to not get boring or require pills to enjoy; reminiscent of some of Aphex Twin's Polygon Window work in places, only dubbier), Camp Cope, How To Socialise & Make Friends (choppy/skronky yet melodious Melbourne indie rock fuelled by MeToo-era rage and knowing when to go rough-as-guts; reminiscent in places of Origami or Bidston Moss), Caroline No, Swimmers EP (understated rock'n'roll balladeering from Caroline Kennedy (of The Tulips and 90s alt-rockers Deadstar) and friends), Cavern of Anti-Matter, Hormone Lemonade (the follow-up to 2016's Void Beats is literally a more stripped-back affair, built up over rhythms from Holger Zapf's homemade drum machines, overlaid with layers of analogue synths, guitars and noise generators), Clue To Kalo, There's No Radio/In The All-Night Bakery At Dawn (a joyously maximalistic electropop song, reminiscent of Caribou or Panda Bear), Empty Files, Shadows (a.k.a. NIN goes to the hipster disco), Phil France, Circle (warm analogue electronic instrumentals, too chilled to dance to, but with more happening beneath the surface; not too far from Jon Brooks' analogue pastorals), Frankie Teardrop Dead, All You Need Is Love And Fucking Peace (above-average contemporary psych-rock, with above-average self-awareness (for one, they're not named "Underground Jesus" or "Acid Death Cult" or something); titles include "Joy In Division" and "Lost Member Of A Fake Boyband"; expect fuzzed-out guitar and chorused vocals), Fufanu, The Dialogue Series (The Icelandic electropop band's latest effort, originally released as several EPs; has its ups and downs, but some nice tracks like Typical Critical), Hatchie, Sugar & Spice (the début record from Brisbane teenager Harriette Pilbeam is a short slice of catchy shoegaze-tinged pop that evokes the likes of The Sundays; one to watch), The KVB,Only Now Forever (Reverbed vocals in an understated croon, the cold snap of analogue drum machines and layers of guitars and pulsing synths baked into a warm fuzz; combining the cold feeling of post-punk with analogue fuzz, The KVB deal in a sort of kraut-goth-psych-pop, somewhere between Darklands-era Jesus and Mary Chain and Joy Division at their most detached and motorik, with perhaps a nod to Berlin-era Bowie), Melbourne Cans, Heat of the Night (more Melbourne indie-rock, with shimmering guitars and vintage affectations; i.e., Heart Turned Blue, a slab of rock'n'roll noir not directly inspired by Twin Peaks, and the Be My Baby-quoting Followed Home), Midday Static, Dreamcatcher (guitar and beat-driven ambience from one guy in Tulsa, Oklahoma; if you like Robin Guthrie and Ulrich Schnauss, you might like this), New War, Coin (broadly in a post-punk vein, yet somewhat more expansive in tone; angular yet dubby with biting basslines, urgently yelped vocals, and more than the average amount of synth atmospherics; reminiscent in places of Dogs In Space), Örvar Smárason, Light Is Liquid (The solo début from Örvar, of renowned Icelandic bands múm and FM Belfast; chilled, glitchy beats, icy pads, warm electronics, leftfield techno and vocals chopped up, vocoded and processed to within an inch of their life; highlights include Flesh and Dreams and the closer Cthulhu Regio), Red Red Eyes, Horology (Laura from Betty And The Werewolves' new band goes into post-Lynchian territory; echoes of Death And Vanilla or Sir), Say Sue Me, Where We Were Together (fuzzy, jangly, indiepop from Busan, South Korea, evocative of C86/Sarah indie in places; Old Town could be twinned with Anorak City), Soft Regime, "Hard Feelings" (An EP of bright, hyper-saturated electropop songs about holidays in Europe, aging socialites and the magic of dance music; ⅓ of Soft Regime is Tim Benton, of indie-electro heroes Baxendale, and Dickon Edwards (of Orlando, Fosca and a renowned online diary) guests on one song), The Spook School, Could It Be Different? (their third record and first on Slumberland; melodiously skronky tweecore with a theme of defiant resilience and the power to fill indiepop dance floors), Tangents, New Bodies (dubby/jazzy/skronky post-post-rock atmospherics with live instruments and electronics), Tigercats, Pig City (Tigercats go deeper into afrobeat territory, with a record of largely kalimba- and horn-section-driven grooves, reinventing Limehouse as a sort of futuristic Nairobi-on-Thames, informal spaces in the shadow of concrete structures, pulsing with a tight beat and as antifa as Gritty), Mr. Twin Sister, Salt (the latest from the Long Island group, combines chilled electronics and soulful vocals (with, at times, stylistic amounts of AutoTune), covering a stylistic gamut between drum'n'bass, jazzy R&B à la Sadé, cyborg neo-soul and dub; impeccably smooth), Yamantaka//Sonic Titan, Dirt (The Toronto band's third album manages to be both weightlessly ethereal and ultra-heavy, combining prog-rock intricacy with elements of metal and lovesliescrushing-esque shoegaze), You Drive, You Drive (impeccably cool synthwave pop, with luminous electronics and icily detached female vocals, from Nashville of all places).
As always, there were noteworthy things from previous years I only discovered this year. This year's ones were Cigarettes After Sex (whom I ignored the first time around, partly because their name made them sound like some kind of dumb hipster marketing gimmick, but was blown away by at Primavera; languid, atmospheric songs of contingent love, somewhere between The Velvet Underground, Mazzy Star and Slowdive) and Client Liaison (groovy 80s-style electropop, impeccably executed, with stage presence to match; also discovered at Primavera).
Were I to designate a record of the year, it would be either Montero, Dubstar or Them Are Us Too; it's a tough choice this year.
In any case, there is a Spotify playlist here.